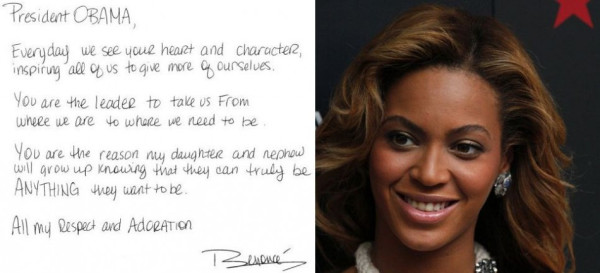 Beyoncé Knowles has posted a note on her official Tumblr page expressing gratitude towards Barack Obama and heralding him as an inspiration to her daughter, Blue Ivy, ahead of American election day.
Beyoncé and her rapper husband Jay-Z have long been supporters of President Barack Obama. With just hours to go before America heads for the polls, the I Was Here singer reiterated her support on social media, telling Obama:
"Everyday we see your heart and character, inspiring all of us to give more of ourselves. You are the leader to take us from where we are to where we need to be.
"You are the reason my daughter [Blue Ivy] and nephew [Solange Knowles' son, Juelz] will grow up knowing that they can truly be ANYTHING they want to be."
The letter echoes an epistle penned by Knowles for Michelle Obama earlier this year. In the missive, Beyoncé thanked the First Lady "for every single thing that you do for us. I am proud to have my daughter grow up in a world where she has people like you to look up to."
Meanwhile, Beyoncé and husband Jay-Z have hosted a $40,000 (£25,000)-a-ticket fundraiser at the 40/40 Club in New York City, raising £2.5million ($4m) for Obama's re-election campaign. Beyoncé also created a buzz when she wore a pair of Erika Pena hoop earrings that spel out Obama.
As the campaign rallies drew to a close, Jay-Z performed at an Obama rally in Columbus, Ohio and impressed all with his altered version of his famous song 99 Problems.
"If you're having world problems, I feel bad for you son, I got 99 problems but Mitt(Romney) ain't one," he said.
Katy Perry has also been showing support for Obama and performed at a rally in Wisconsin, wearing a skin-tight blue rubber dress that had his presidential slogan, "Forward" across the front. Last month during a concert, Perry wore a white rubber dress that resembled a ballot slip which read, "President of the United States" in black letters.
Other celebrities who have been supporting Obama at rallies and various fundraisers include Kerry Washington, George Clooney, Eva Longoria, Lady Gaga, Natalie Portman, Tom Hanks and Anna Wintour.