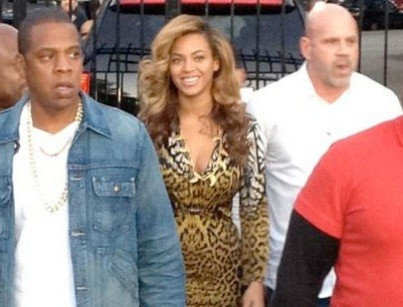 Beyoncé is reportedly preparing to become a mother for the second time.
The singer, mother of eight-month-old daughter Blue Ivy with husband Jay-Z, was spotted sporting an apparent baby bump during a recent outing.
At the Cognac Cocktails celebrations at La Marina Restaurant Bar Beach Lounge in New York City, the 31-year-old star wore a tight-fitting leopard-print dress which accentuated her curves and showed off a little belly bump.
Despite mounting speculation the Single Ladies hitmaker has remained tight-lipped about baby rumours.
Her representative said: "I do not comment on her personal life."
While Beyoncé may have just had a big lunch, it would not be surprising that she is expecting after she recently revealed how much she loves motherhood.
"[Having a daughter] just gives you purpose and all of the things that my self-esteem was associated with, it's all completely different," Beyoncé told Anderson Cooper during her Anderson Live appearance earlier this month.
"I realised why I was born. [Of] all the things I want to pass on to my child the best way of doing that is not by preaching or telling her but showing her by example, which is one of the reasons I'm here."