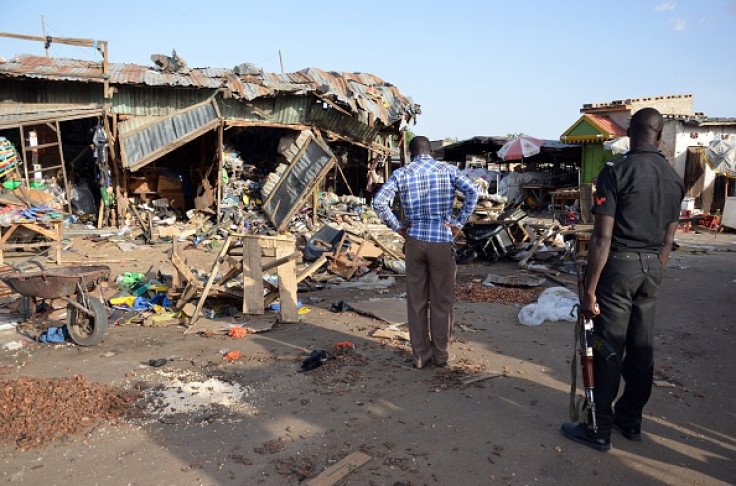 At least 42 people have been killed in two attacks in Borno state carried out by suspected members of terror group Boko Haram.
The latest attacks occurred in the remote villages of Debiro Hawul and Debiro Biu in the restive Borno, epicentre of the group's insurgency.
According to witnesses, militants raided the two villages in a convoy of pick-up trucks and motorcycles and shot villagers after looting shops and houses.
"They came around 12:30 am (1130 GMT on Tuesday) and opened fire on the village, which sent people scampering into the bush to escape the attack," a witness told AFP.
"The gunmen slaughtered 22 people who were not fast enough in fleeing and went about looting homes, grain silos and drug stores."
The raids came hours after a child suicide bomber, believed to be aged 12, blew herself up at a market in the village of Wagir, Yobe state, killing at least 10 people.
The incident occurred hours after another two suicide bombers killed at least 30 people at a busy fish market in Maiduguri, Borno's capital.
No group claimed responsibility for the attacks, but suspicions are likely to fall on terror group Boko Haram, renowned for kidnapping civilians - mainly women and children - and forcing them to participate in attacks throughout north-eastern Nigeria, where the terrorists aim to establish an Islamic caliphate.
According to a report by Unicef, the number of suicide bombings involving women and children is increasing in Maiduguri and more suicide bomb attacks have occurred in the north-east since the beginning of 2015 than in the whole of last year.
Newly elected President Muhammadu Buhari has also vowed Nigeria will do all it can to defeat Boko Haram's deadly insurgence in the north east and find the 220 girls who were kidnapped by the militants in Chibok, Borno state, in April 2014.
The Nigerian government is being aided by mercenaries and troops from Chad, Benin, Niger and Cameroon in its offensive and has scored some successes since the military co-operation started in February.
Nigeria up close: Check out our Flipboard magazine