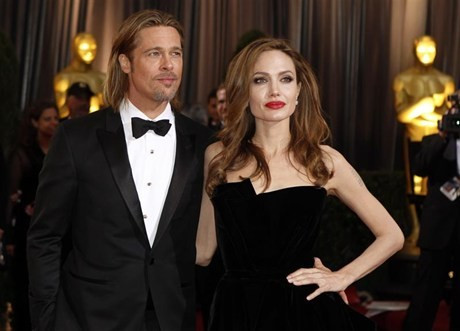 A love letter apparently written by Brad Pitt to Angelina Jolie, which has been circulating online, has turned out to be an internet hoax.
The letter was associated with Pitt in June after the Oscar-winning actress revealed that she had undergone a preventive double mastectomy earlier in February.
"My wife got sick. She was constantly nervous because of problems at work, personal life, her failures and problems with children," the note reads.
"She has lost 30 pounds and weighed about 90 pounds in her 35 years. She got very skinny, and was constantly crying. She was not a happy woman. She had suffered from continuing headaches, heart pain and jammed nerves in her back and ribs."
The letter can be read here.
Although the couple are parents to six children (three of whom were adopted): Maddox, 11; Pax, nine; Zahara, seven; Shiloh, six; and four-year-old twins Knox and Vivienne, they are not married and have never been.
Jolie was previously married to actors Jonny Lee Miller and Billy Bob Thornton, while Pitt was earlier married to actress Jennifer Aniston. Jolie and Pitt reportedly became close on the set of the film Mr & Mrs Smith, while Pitt was still married to Aniston.
His spokesperson confirmed to Snopes that the actor has nothing to do with the letter. The website also suggested that it appeared to be written by someone who is not a native English speaker. The note looks as if it was imperfectly translated from one language to English.