Police in the Thai resort of Hua Hin have released a graphic video of a brutal attack on an elderly British couple and their adult son. The video shows how the family are seen being badgered by locals at a street market before they are then punched and kicked repeatedly by the gang.
At one point the elderly lady is kicked in the face as she is lying on the ground and all three were left unconscious. The attack took place as locals and holidaymakers celebrated during Songkran festivities (Thai New Year) in HuaHin, 200 km (140 miles) south of Bangkok, on 13 April. The family have not yet been identified in the media.
Police believe they were targeted simply for being westerners and eye-witnesses said the gang had boasted of wanting to attack "Farangs" which is the Thai word for foreigner. Two people have been arrested and two are still being hunted according to local media.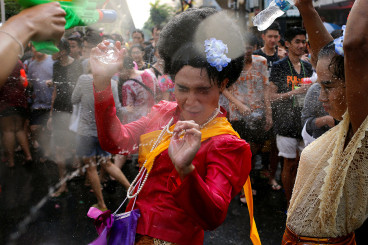 On a Hua Hin forum one eye-witness said the family were attacked at around 2am after leaving a bar. "Within 20/30 meters of leaving the bar the Thais were punching the 65-year-old old lady in the face," wrote the poster, "Usual Suspect."
"The elderly gentleman was down on the floor, and their son was beaten very badly. At this point I caught up to the scene and pushed one of the youths away from the woman. I got severely punched and kicked for my troubles, but felt the need to protect this frail lady. The three of them are still hospitalised, and I will need cosmetic dental work done."
Another witness posted: "It happened last night at 2am when a group of Thai men who were overheard saying they were there to attack "Farangs", attacked a elderly couple leaving a bar. A Good Samaritan who stopped the beating of one of the victims, a 65-year-old woman, was also beaten. It is believed the men were gang members.
"This happened about one block from the Hun Hin police station. Please use caution tonight in the bar areas of Hua Hin as the stated purpose of the people responsible for the attacks is to attack foreigners. They are still at large," the post read.
In the past two years, six westerners have died on the island of Koh Tao including Britons Hannah Witheridge and David Miller, who were killed in September 2014. Two Burmese men convicted of their murders are expected to demand a retrial after what was widely seen as a flawed legal process.