Cut. Crisis. Panic.
Scenes of towns, cities and villages under water test us all. They remind us how fragile our country is and how in a very short space of time normal life can suddenly be thrown up in the air.
We are now paying the price for that short-sighted and cynical attempt to balance the books on the back of the well-being of the country. You can only get away with short-sighted cuts for a short amount of time, and the government has continued to hack away at public services from the moment they held hands on the lawn with the Liberal Democrats right through the 2011 General Election and beyond.
Now I should say early on that with any natural disaster government can't be held responsible for the event. But government can be held to account for the lack of forward planning, the failure to heed warnings and the removal of basis services which are relied on at times of crisis.
I don't believe there is a true saving when it comes to drastic public service cuts. My own experience as a council leader has taught me that cuts in one area – when need remains – simply shunts cost elsewhere.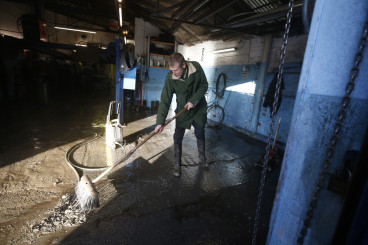 We've seen it in adult social care where council cuts simply push pressure onto the NHS. It is unfortunately the case that it is easy to cut what you can see, but not that which you can't easily identify. While a member of the public would be forgiven for not having an in-depth knowledge of public services, the Government certainly should know its 'core business'.
What needs to be balanced with a rush to cut for cuts' sake is the knock-on cost of failure. We can measure some of that directly when cuts in one area create pressures in another, and we can measure the economic cost of failure.
Closed businesses, damaged infrastructure, reduction in spending and productivity from the recent storms and floods could reach over £5bn. That is a real cost.
So let's start with the cuts.
On flood defences direct cuts to routine maintenance amount to £115m. The promised £400m a year investment to shore up flood defences has failed to materialise, with funding cut from £360m in 2010 to less than £270m.
And while prevention is always better than a cure, emergency response will always be critical and that's where we see some of the most alarming cuts.
The police have endured the loss of a staggering 16,248 frontline and operational support posts since 2010. Our fire service now has nearly 7,000 less frontline firefighters and fewer appliances to assist those in need of rescue.
For local councils – those who deal with the community effect of flooding – they have been significantly harder-hit with many having budgets cut by over half. When faced with increasing demand for adult social care and children safeguarding it is obvious that reductions in highways works and gully emptying will suffer, not to mention housing officers and administrators needed to assist in rehousing and suspension of council tax and business rates.
On the Army, drafted in when all else fails or the scale of the emergency is significant, they have seen cuts of over 19,000 personnel since 2010. With many in active service around the world we know only too well how stretched our frontline heroes can be.
While extreme weather is not the fault of government the most recent floods have exposed again the lack of resilience and forward planning. Public services have worked hard to support those communities affected and they are without doubt our public service heroes. We owe them a great debt as we do to members of the community who rallied around to support one another.
The leader of Rochdale Council Richard Farnell didn't hold back his punches. As the leader of a town severely affected by recent flooding he knows only too well the human cost. The heart of the town centre was under water with homes and business affected. When he looked to government to help the response was underwhelming and led to claims that Government officials were deliberately withholding vital support.
With thousands of people displaced from their homes the human cost of this crisis could not be clearer. So it was odd, to say the least, that the Chairman of the Environment Agency Sir Phillip Dilley reportedly remained in sunny Barbados while towns and cities were under water. More worrying than the clear demonstration of poor leadership was the practical support with claims that 10 new high-volume pumps were not deployed.
It's difficult not to feel a north-south divide on this issue. Can you imagine a situation where Whitehall was under water and it was met with the same lacklustre response?
I'll leave you with these questions to ponder; if more extreme weather comes are we prepared? Do we have a fully thought-through plan resourced properly? Do we have the public services in place properly resourced to be there when we need them?
I have very serious concerns.
---
Jim McMahon OBE is the leader of Oldham Council and recently elected Member of Parliament for Oldham West and Royton.
---