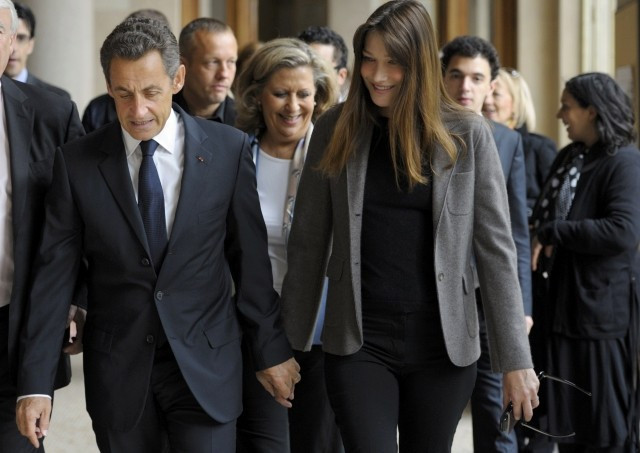 Carla Bruni, the former First Lady of France, is reportedly pregnant with the second child of Nicolas Sarkozy, the former French president, a French magazine has claimed.
According to the latest edition of France's Closer magazine, Carla Bruni Sarkozy, who was believed to be struggling to shed post-pregnancy weight since October, is actually pregnant again.
"We thought she was struggling to lose those last few pounds of her pregnancy, but no, Carla Bruni-Sarkozy prepares us only another baby! The former First Lady of France expects her third child at 44 years," the magazine reported.
The former supermodel turned pop singer gave birth to her first child (a daughter named Giulia) with Sarkozy on 19 October last year and while Sarkozy has three sons from two former marriages, Bruni has a son from a former relationship. If these reports are to be believed, Bruni and Sarkozy will have their second child together after Giulia, who is now eight months old.
The magazine also reported that since Bruni was 44, she would have to take extra precautions during this period, like she did with Giulia's birth last year. Although there has been no official confirmation about Bruni's pregnancy, the magazine claimed her "little round belly" made it quite obvious.
Rumours around First Pregnancy
There were similar speculations and rumors about the birth of Giulia and they started first at the G8 Summit in Deauville, in northern France, in May last year. In July, Bruni and Sarkozy were spotted holidaying at their official retreat - Fort de Bregancon in Bormes les Mimosasand, off the Mediterranean coast - where Bruni was easily five to six months pregnant. However, official confirmation was given only a month before the delivery (although Sarkozy's father, Pal Sarkozy, made an announcement in German newspaper Bild, in May), when Bruni appeared in the gardens of the Elysee Palace in September with a heavy baby bump. The couple kept as low a profile as possible through that period and it isn't hard to see them do something similar this time around, if Bruni is indeed pregnant.