Megan McKenna had a major meltdown on Celebrity Big Brother, prompting the show producers to call on security to restrain her. The Ex on the Beach star went into an alcohol-fueled, expletive laden verbal tirade, leaving her housemates concerned for her state of mind and their own safety while the public were outraged midst accusations of racism.
Tensions have been simmering in the house and the reality star was already like a pressure cooker following a tantrum over mashed potato, an ill-fated flirtation with Scotty C and her frustration at missing her mobile phone.
An altercation with former Eastenders actor John Partridge and US reality star Tiffany Pollard seemed to send her over the edge, as the 23-year-old embarked on a hysterical rampage through the house. In a foul-mouthed attack against her fellow housemates she called John Partridge a "lying s***" and a "two-faced little c***". She flew off the handle when Big Brother informed the house that they had lost the latest task shouting "you're joking?!".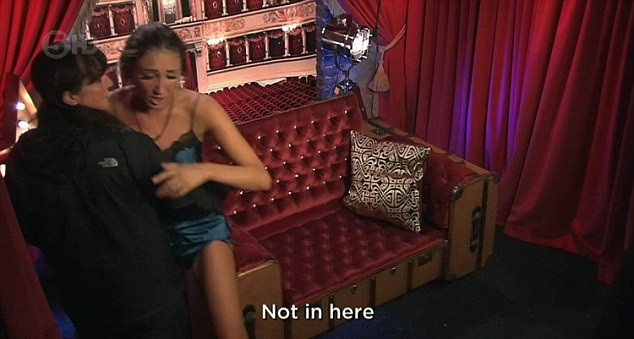 An argument about the 'cleanliness' of the house had her riled up and sent her out of control. When John suggested that housemates were not pulling their weight in cleaning the toilets and bathroom and called for a house meeting about cleaning duties, Megan responded with a violent outburst.
"It angers me in here that people do jack s***!" she said. She then tells John he should 'speak to Stephanie directly to clear her s*** up, rather than talking about it when she's not around." While the housemates tried to calm her down, she shouts: "Tell her to clean her s*** up, John! I'm the f****** one telling the truth in here cos everyone's so scared to f****** telling truth apart from me. It's always John 'I'm the perfect one'. I f****** respect people in here, John," she shouted.
John kept a cool head and listened to the outpouring of abuse from a safe distance. Her behaviour prompted Tiffany to laugh out loud, causing Megan to direct her outrage at her. "I don't know why you're laughing Tiffany; he's the one who wanted everyone to walk out of this house for you! I stood up for you!"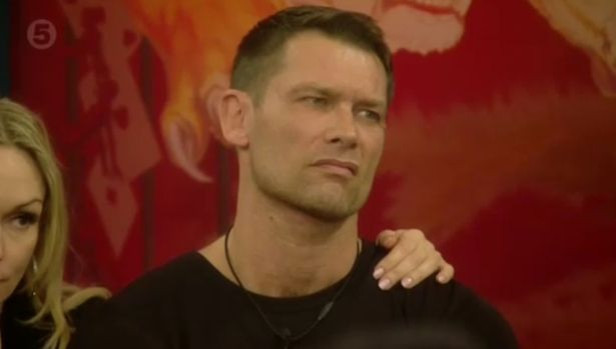 As the situation got increasingly heated and Megan launched at Tiffany, Big Brother intervened demanding that Megan go straight to the bathroom to separate the housemates, since the Diary Room was occupied by Stephanie who was pouring out her soul. "That girl can't drink no more!" shouted Tiffany. "It's like something possessed her," said Kristina
She is finally called into the Diary Room where she proceeds to shout: "I'm not dealing with s*** anymore, I've kept it in all f****** day! I'm sick of it! I'm sick of the fakeness! He's a liar. He slates Tiffany to the ground. You know what, there's a few people who agree with me."
As Megan continued her venomous rant, Big Brother was forced to send security into the Diary Room to contain her.
While all is clearly not well with Megan, she and John have been accused of making racist comments targeting Tiffany. Viewers took offence to an alleged racial remark, made by John arguing that his 'chicken' reference, pandered to an offensive stereotype.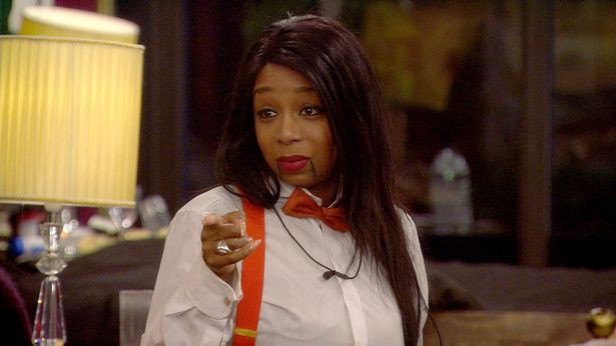 According to Ofcom there have been 211 complaints for Tuesday night's episode in which the comment was made. An Ofcom spokesperson said: "We will assess these complaints before deciding whether to investigate or not".
As Megan continued to rant about John and Tiffany in the Diary Room, she referred to Tiffany as a "ghetto c***," which left viewers understandably enraged. One viewer posted: "Big Brother are calmly gonna sweep the blatant racism right under the rug #CBB"
While commentators on Celebrity Big Brother's Bit On the Side expressed their concerns for Megan's well-being and questioned the motives for her outburst, attributing it to lack of food and sleep and being spoilt, the reaction on Twitter was one of horror.
Megan is said to have calmed down after the outburst, and the 23-year-old received a formal warning from Big Brother. While she faces accusations of racism for her foul-mouthed attack on Tiffany, on the plus side, she may have won herself a movie role after David Gest joked that after witnessing her frightening rage, he would get her a role in horror film, Nightmare on Elm Street.
Meanwhile, Twitter is going to town on Megan's very public meltdown.
Couldn't resist #cbb #cbbmegan pic.twitter.com/1xN6KF4J2P

— Aoife Dowd (@aoifedowd) January 14, 2016
Hahaha #CBB #cbbmegan pic.twitter.com/ETeiqR8qFl

— Rachel (@xRachelMariexx) January 14, 2016
Think #megan needs an exorcism!! #cbb #CBBMegan

— Kim Hough (@kimhoughnemo) January 14, 2016
Big brother was a disgrace tonight from start to finish. Ashamed of Megan if kids look up to that. #cbb #bigbrother #ghettoc #cbbmegan

— NadiaSx✏️ (@NadiaSutherland) January 14, 2016
She is actually unstable. Get her out and to the safety of a qualified professional #cbbmegan

— Marie Chapman (@kentishmaz) January 14, 2016
David Gest saying that he will hire @Megan_Mckenna_ for Nightmare on Elm Street has made my day complete #cbb #cbbuk #cbbmegan #tvgold

— Natalie Naaman (@natalienaaman) January 14, 2016