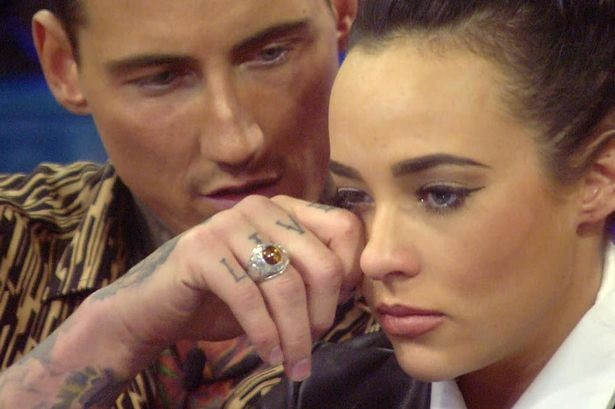 Barely 24 hours after she left the Celebrity Big Brother house it appears there's already drama brewing for Stephanie Davis. The ex-Hollyoaks actress has had a tumultuous time on the reality TV show, having found herself caught in a love triangle after falling for fellow housemate Jeremy McConnell, despite being in a relationship with model Sam Reece.
Stephanie has been at the centre of the tensions in the house after she came under fire for flirting with Jeremy. She later dumped Sam Reece on national TV as she professed her love for the Irish model. She attempted to justify her infidelity accusing Reece of cheating on her.
After Jeremy was evicted, the 22-year-old appeared to be pining for him. Despite the controversy surrounding her she made it to the final two, losing the Big brother crown to Scotty T, but she seemed happy to be reunited with Jeremy. However, it wasn't long before she was in tears again and was being comforted by Jeremy outside Elstree Studios after the Big Brother wrap party.
Stephanie was caught on camera sobbing and hiding her face in her hands. The images sparked rumours that the pair had fallen out overg claims that Jeremy had cheated on Stephanie while attending a PA in Newcastle on Thursday night.
A Twitter post read: "ATTENTION: Jeremy CHEATED on Steph last night with a girl called Caroline Pope after doing a PA at Jungle, Newcastle' howling cazza."
While emotions seemed to be running high after the final, the pair were soon locked in a passionate embrace. Stephanie's representative clarified the situation telling MailOnline: "What the picture doesn't show is Stephanie had just been reunited with her Dad and Brother. Obviously she was clearly overwhelmed after being away from them for over four weeks". Jeremy's management also slammed the cheating claims as 'pure mischief making'.
In her exit interview with host Emma Willis, Stephanie appeared to justify her closeness to Jeremy in the house, alleging that Sam Reece had been unfaithful. "If everything was sweet at home then it wouldn't have been like that. I was just accepting the love that I was given," she said. "I think beforehand I was in love with the idea of being in love. I think that's why I stuck with somebody who hurt me and it was toxic."
Describing how Jeremy treated her by comparison she said: "He just made me feel like I've never felt before and made me feel that bit of worth. He is the best thing going. If Big Brother's taught me anything it's to expect the unexpected. He is the best person I've ever met."
While Reece has maintained a dignified silence while watching his girlfriend getting cosy with another man on TV, he did react to her accusations of cheating. Writing on Twitter he said: "I can confirm that the accusation that Stephanie has made regarding me being unfaithful to her is completely untrue and very hurtful."
The pair had been dating for just over one year and before she entered the house, they were rumoured to be talking about getting married.
Jeremy acknowledged that the pair's blossoming romance would have left Sam 'gutted' but he couldn't deny his attraction for Stephanie. "I just gravitated towards her. I don't know what it looked like. It is was it is. That's what we felt for each other. I understand what the other fella must be feeling." Gutted. I'd be gutted," adding that he had tried to control his emotions, but accepted that he was as responsible as Stephanie.
"It was both of us. It's just a really tough situation. I tried to pull away a few times, but we kept finding each other. I do understand the boyfriend situation. I kept going back to it. If I was on the outside I could go somewhere, but it kept getting stronger. I know the right thing to do was to just wait, but I can't do anything about it now."
On the matter of whether the pair might become an item now they have left the house Stephanie wasn't giving anything away: "Jez might say I just want to be friends. Right now in the Big Brother House Jez is the best person. If something happens it happens, if it doesn't it doesn't. That's between me and him."