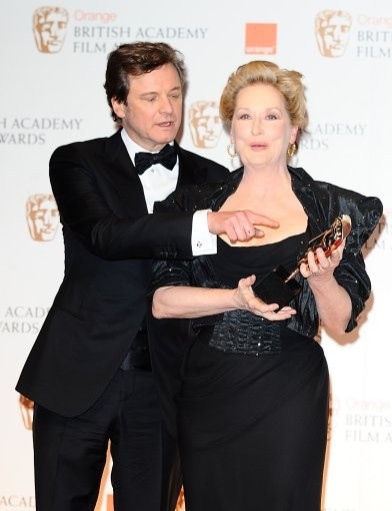 Who needs George Clooney, Brad Pitt et. al... when you've got Colin Firth?!
The suave and elegant British actor showed that he was the real Prince Charming, during the BAFTA awards ceremony that took place at the Royal Opera House in London.
When Firth, presenting the BAFTA for Best Actress, announced the ever-gorgeous Meryl Streep as the winner, the veteran American actress rushed to the stage beaming with delight, only to trip and lose one shoe (a-la Cinderalla, style of course). She stumbled on to the podium... only to see Firth rush past her, pick up the shoe and return, on bended knee, to slide the slipper back on to the foot of a grateful Streep.
The actress bestowed a happy kiss on our hero and the couple received the rapturous applause of a delighted crowd.
"Livia Firth (Colin Firth's wife) better not stand at the top of the stairs when I'm there," Streep later joked backstage, as reported by the Metro.
Incidentally... the Best Actress award... was for her role as Dame Margaret Thatcher, in the film "The Iron Lady"
Click here to see how Colin Firth played Prince Charming...