Samsung has confirmed that the Galaxy S8 will miss the series' traditional unveiling at Mobile World Congress 2017 so that the smartphone can go through additional safety checks before launch. The South Korean electronics manufacturer has introduced a new eight-step testing process for all products containing lithium-ion batteries following an investigation into why Note 7 handsets caught fire.
Samsung has concluded that two separate manufacturing defects caused batteries in its Note 7 phablet to overheat and ignite. Initial battery units were too small for their casings, causing them to overheat. In the revised version of the device, welding defects inside the batteries made them prone to short-circuiting, again causing them to catch fire.
The company was eventually forced to discontinue the handset just months after its launch, causing operating profits to plunge by nearly a third in the third quarter of 2016.
Samsung's new, extensive testing procedure is an attempt by the company to avoid repeat mishaps with future products as well as restore trust in consumers. The stringent process includes durability tests, visual inspection, X-raying, charge and discharge tests, disassembling, accelerated usage tests, voltage tests and total volatile organic compounds (TVOC) tests.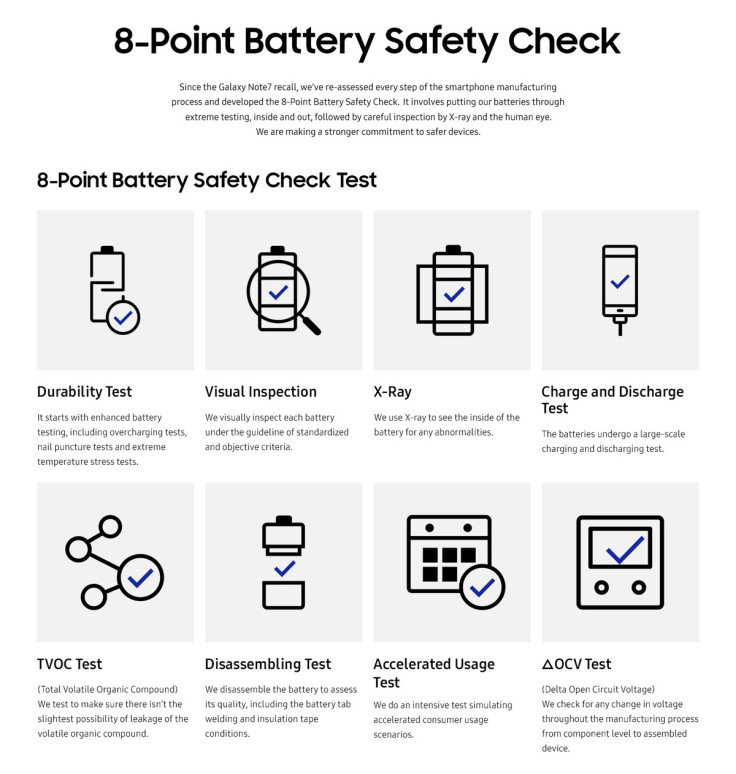 According to Reuters, Koh Dong-jin, chief of Samsung Mobile, said the Samsung Galaxy S8 would be delayed as a result and would miss MWC 2017. Historically, Samsung's flagship smartphones have been unveiled publicly on the opening night of the annual trade show in Barcelona, which this year begins on 27 February.
Koh did not disclose when the handset was expected to launch, although reports have so far indicated an April release date, with the latest tidbit from Sam Mobile speculating the device will be unveiled to the public on 29 March.
While it is yet to launch officially, design renders and protective smartphone cases for the Galaxy S8 appear to have leaked early, although these have not been verified by Samsung.