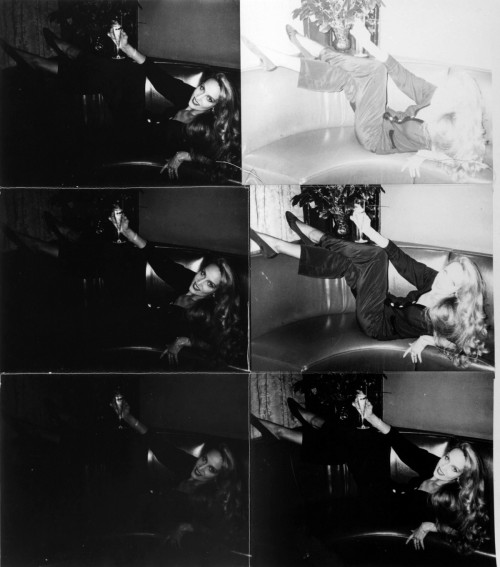 The Photographers' Gallery offers a rare opportunity to view a consortium of black and white photographs by the maverick film director David Lynch, the godfather of counterculture and writer William S. Burroughs, and the famous Pop artist Andy Warhol.
Andy Warhol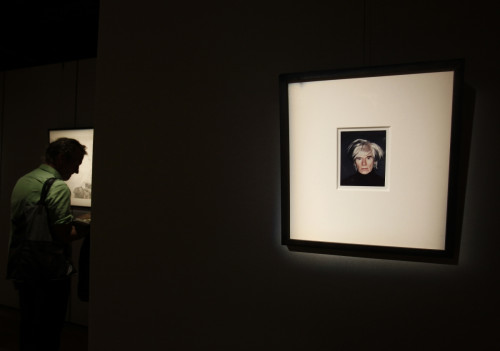 On the first floor of the gallery, Warhol's (1928 - 1987) extensive but little known 8 x 10" photographs focus on the last decade of the Pop Art pioneer's life.
The gallery features The Photographs 1976 - 1987 which are over fifty vintage black and white prints alongside a small number of Warhol's Stitched Works.
In 1976, Warhol purchased a small 'point and shoot' Minox camera that he took everywhere and shot more than 36 frames a day.
Already an avid observer and recorder, Warhol began compulsively shooting his immediate surroundings recording obsessively the ephemera of the every day.
By capturing Hellmann's mayonnaise jars, newspaper dispensers, the man on the street, street signs, rubbish bags, manhole cover plates, chairs from the flea market, license plates, ice cream vans, and street boxes, his images manage to transform the mundane into a beautiful and poetic reality.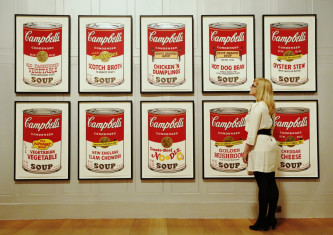 But by bringing fame to the banal, the everyday, Warhol did not miss to celebrate the real celebrities too with portraits of Jean Michel Basquiat, Liza Minnelli, Tina Turner, and Jerry Hall.
His Stitched Photographs series, a machine-sew multiple copies of photographs into grids process are his most original and unique photographs.
The repetition creates a unique sculptural and three-dimensional work. By repeating the object it becomes something else.
For example, the Good Humour Ice Cream Van image becomes unrecognizable and celebrated.
Warhol referred to his photos as his visual diary, which transports us into his Warholian World.
William S. Burroughs
The exhibition continues with William S. Burroughs (1914-1997), an influential American novelist, essayist and artist, and a cult icon. Coinciding with the centenary of Burroughs' birth, Taking Shots exhibition focuses on his large photographic oeuvre, offering new and important insights into his artistic and creative processes.
The show features over a 100 book size works, mainly black and white, many rarely or never before seen.
These include vintage photographs, collages and assemblages alongside related ephemera such as postcards, magazines and book covers and adverts used in Burroughs' pieces.
Also included in the space is Towers Open Fire (1963), a short experimental film by Antony Balch influenced by Burroughs' theories of the image.
The title, Taking Shots, refers to photography but also to Burroughs' well-known heroin addiction and his obsession with firearms. The photographs exhibited were mainly taken between the early 1950s and 70s in locations including London, Paris, New York and Tangier. Burroughs' images are organised into categories including self-portraits, street scenes, intimate domestic interiors, assemblages, construction sites, and portraits of fellow writers and artists, like Jack Kerouac, Allen Ginsberg, and Brion Gysin, and friends and lovers.
Burroughs is well known for his use of 'cut-up' in which the photographs are subject to cut-up experiments with writing and images.
Personally, I think this is the best series by far.
Burroughs argued that "a collage is an art, like flower arranging. The cut up method brings to writers the collage, which has been used by painters for 15 years. You cannot will spontaneity. But you can introduce the unpredictable spontaneous factor with a pair of scissors."
The school of cut-up was invented by engineer and mathematician Ian Sommerville and Burroughs, a process of photo reduction where hundreds of photo were condensed into single frames. The photographs work as a biographical memory of Burroughs' life.
His St. Louis photographic series evoke memories of his childhood, London Assemblages picture Burroughs' family friends, and What Was, What Isn't intimate series, reveal Burroughs' sexual encounters.
The layout of the show is like an open book offering an intimate approach to William S. Burroughs' life and work.
David Lynch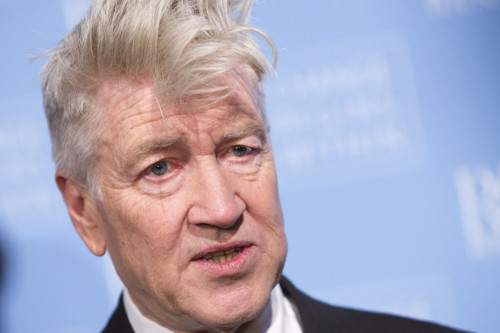 The last floor brings Lynch's The Factory Photographs a cinematic style of dark, brooding and ominous images of derelict factories.
The photographs are all shot in black and white in locations including Germany, Poland, New York and England.
They are ninety black and white Gelatin-Silver paper photographs (1980-2000) that depict relics of a lost world by capturing passages, detritus and decay of what are now, haunting cathedrals of a bygone industrial era slowly overtaken by nature's innate power.
Lynch began taking photographs of factories when scouting for shooting locations and many of his images seem to possess an inherent potential for being the setting of a story. Functionless, disintegrating, rundown, the 'factory' appears in Lynch's 'personal narrative' as an enclave, a refuge from the onrush of progress and modern technology.
Passion for the dark captures the uninhabited locations once proud emblems of progress now deserted and reclaimed by nature.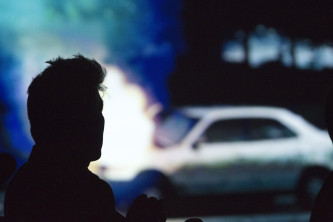 Lynch reveals "Such shapes and textures and there is a deep mystery...there are a lot of parts of the factories that are much darker and I always say whenever there is darkness, the mind kicks in and create your stories and mysteries, and it's all in there, a beautiful world."
Even the texture of the prints resembles the soot, vapours and fine dust covering the surfaces depicted. The black and whites fumes, smoke, chimneys, debris, bricks, smashed windows, wires, deserted factories, cracked windows glass, pipes are a complete contrast with Lynch's technicolour films.
This show highlights how to find beauty in the most obscure, obsolete and forgotten parts of life.
Warhol, Lynch and Burroughs could see in the darkness and help us to see through it.
Virginia Damtsa is the co-founder of contemporary art gallery Riflemaker with Tot Taylor.