A college campus in California presented the latest stage of debate over the topic of cultural appropriation, which has sparked several discussions over race and culture in the US in the past few years.
A mural emblazoned with the words: "White girl, take OFF your hoops" caused controversy at Pitzer College, east of Los Angeles, with the Latin student activists responsible facing a wave of what is defined as hate speech by college president Melvin Oliver.
The writing appeared on the wall of a college dormitory offered to students so they could freely express themselves. The mural also feature the writing "Latinx for black lives" and "Protect black trans lives" – and was meant to comment on racial and ethnic discrimination and cultural appropriation.
The cultural appropriation term is broadly defined as the adoption or use of the elements of one culture by members of another culture. Activists have started highlighting occurrences within industries dominated by white people, said to reap the profits of traditions and customs of other minorities, in what is seen as an exploitative double standard.
"Because it's cute and aesthetic when they wear hoop earrings, but it's ghetto and hard for us to be taken seriously when black and brown bodies wear them. White girls, take off your hoops, stop calling yourself mami & start respecting our existence" one of the students responsible for the writing, Alegria Martinez, wrote on her Instagram account, sharing a picture of the graffiti.
One of the college publication, the Claremont Independent ran a story about the mural that sparked a wave of outrage on right-wing publications, including an article on the alt-right commentator Milo Yiannopoulos ' website.
Students who spoke to the publication, in support of the mural, then experienced harassment and death threats, to the point that the college president sent a message to the campus community condemning the response to the graffiti. "Coverage in a local publication of a recent posting on the free wall has ignited a cycle of violent hate speech that threatens the safety and well-being of every member of our community," Oliver wrote in the message quoted by the conservative publication The Daily Caller.
"As a place of higher education, we strongly cherish and defend intellectual curiosity, productive discourse and opposing views that may broaden our perspectives as global citizens," the college president added, "However, when speech resorts to hate, violence and threats, we will not tolerate these acts nor the perpetrators of these actions."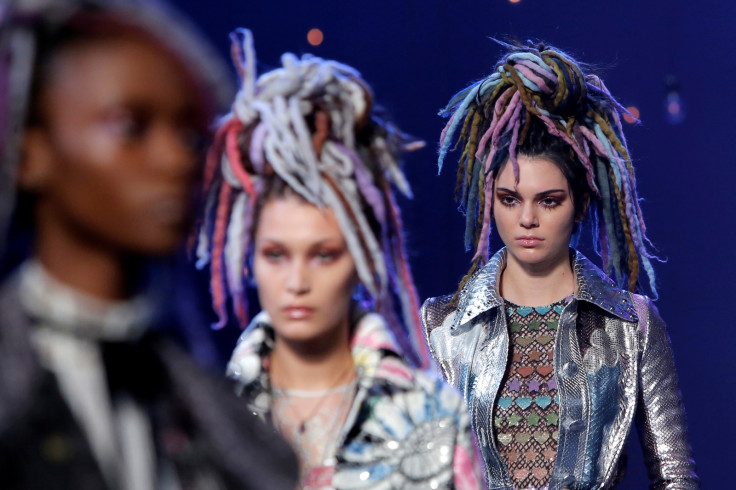 Recent examples of cultural appropriation debates include twerking and the 2014 Taylor Swift video of the song Shake It Off, the nameplate necklace popularised by Sarah Jessica Parker's character Carrie in the HBO show Sex and the City, and the Marc Jacobs Spring/Summer 2017 show at New York Fashion Week in September, in which models wore pastel-coloured dreadlocks.
At the time, Jacobs, who is Jewish, said in his defence that he did not see colour or race. "I see people" he wrote in a post on Instagram. Jacobs' critics replied that not seeing race was part of the problem, as it is an argument often used to conceal rather than acknowledge cultural contributions made by black and ethnic minorities who however face discrimination in their daily lives when expressing their own culture – a most famous example being black actress Zendaya Coleman, who was criticised for attending the 2015 Oscar ceremony wearing dreadlocks.
Jacobs' next collection, presented in March at New York Fashion Week, was heavily inspired by hip-hop culture, with models donning big accessories such as hats, necklaces and yes – hoop earrings. The increased presence of models from black and ethnic minorities in his show suggest, however, that he may have learnt from the past controversy.