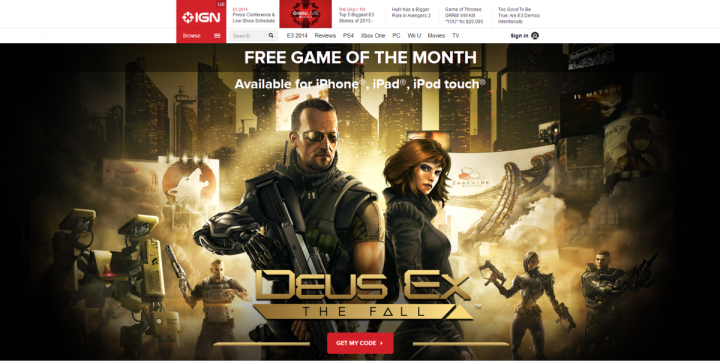 Renowned gaming website, IGN, is now giving away a free copy of Deus Ex: The Fall as part of its ongoing game promotion.
The promotion involves one giveaway of free iOS game every month in partnership with pre-selected game developer. This month IGN has chosen to partner Square Enix for this exclusive giveaway of Deus Ex: The Fall for iPhone, iPad and iPod Touch, which costs $6.99 via App Store.
Here is the game's brief description from the App Store:
Deus Ex: The Fall is the start of a new journey in the award winning Deus Ex game series. Set in 2027– the golden era for science, technology and human augmentation. Ben Saxon an augmented former British SAS Mercenary, is desperate for the truth behind a global conspiracy threatening his life.
The award-winning game can be downloaded for free in a few simple steps:
Navigate to the IGN source link.
Click on Get My Code button on the page.
Then tap on the promotion code and Deus Ex: The Fall should start downloading automatically.
Note:As this is a limited period offer, the free game codes will be available on first-come-first-serve basis only or until stocks last. So, you need to hurry.
The promotional offer will be available only in the following countries:
United States, Algeria, Armenia, Australia, Austria, Bahrain, Belarus, Belgium, Canada, Chad, Denmark, Egypt, Finland, France, Germany, Hong Kong, Indonesia, Ireland, Italy, Jordan, Kazakhstan, Kuwait, Lebanon, Luxembourg, Malaysia, Netherlands, New Zealand, Norway, Oman, Philippines, Portugal, Qatar, Russia, Saudi Arabia, Singapore, Spain, Sweden, Switzerland, Taiwan, Thailand, Tunisia, Ukraine, United Kingdom, Vietnam
Note: The free game cannot be downloaded directly from App Store and you need to get it via IGN's website.