Amber Rose has been accused of photoshopping her famous curves after the star's semi-nude Instagram snaps went viral online.
The 31-year-old model, who is technically single after splitting from her rapper husband Wiz Khalifa, almost broke the internet when she posted three back-to-back pictures showing he posing on a balcony in Miami with heels. She tagged the snaps "Fleekin", "Stifler's Mom" and "Slaying".
Her outfit of choice was a dental-floss inspired black swimsuit which left little to the imagination.
But while many fans couldn't hide their appreciation, others accused the mother-of-one of some digital trickery.
To support their theory the critics compared the Instagram snaps to that paparazzi shots taken on the beach the following day and pointed out clear distortions.
An Instagram account later popped up accusing Rose of going under the knife to enhance her assets, insisting she was not always bootylicious.
Rose, who previously told online critics that claim she should put on some clothes now that she is a mother to "Kiss my MILFY ass b****s!" has not commented on the photoshop speculation.
However, over on social media, some of her loyal supporters are fighting her corner.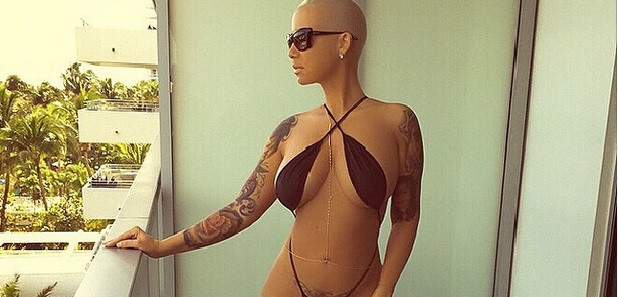 Rose is not the only female celebrity to come under fire for altering her photos online. Kim Kardashian and Beyoncé have also been caught out using photoshop apps to make their pictures look more appealing.