Did Donald Trump try to hire the voice of Duke Nukem for a political ad?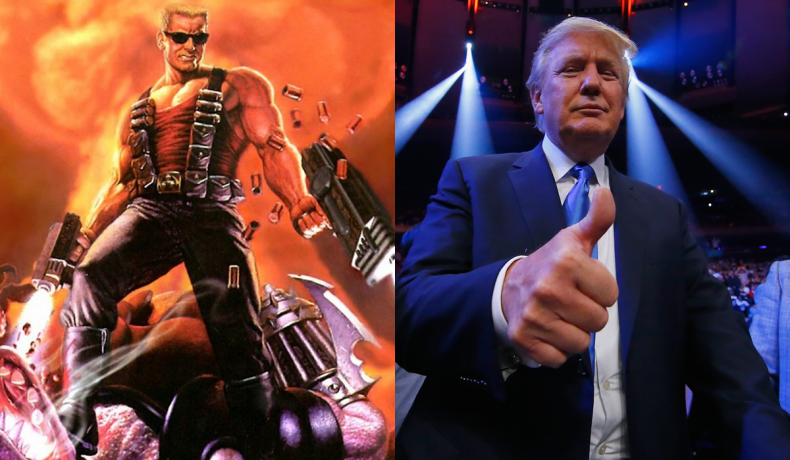 A leading candidate in the Republican presidential race attempted to hire voice actor Jon St John, best known for providing the voice of video game action hero Duke Nukem, to help make a political ad for their run to the White House.
St John revealed in a Facebook post that he was approached by the Republican Party but turned it down due to his own political beliefs. He wrote: "I don't like to turn down jobs... especially when it's a national ad campaign that pays pretty well.
"But I have a conscience and could not accept a gig to be the advertising voice of the Republican Party's leading candidate for president. Thanks for the kind offer, but I will sleep just fine at night knowing I made a choice I can live with."
The Verge contacted St John for clarification and he confirmed it was a leading candidate in the Republican race – which could mean Donald Trump or Ted Cruz, the current front-runners.
St John has provided his voice-acting talents to numerous video games over the years, including the Sonic series, Half Life spin-offs and Counter Strike, but he will always be best known as the voice of 1990s video game icon Duke Nukem – a spoof of American action star clichés.
He voiced Nukem until 2011's overdue and poorly received Duke Nukem Forever. The series has not been heard of since. In the meantime, St John has leant his voice to games like Guild Wars 2 and Dota 2.
The current Republican front-runner is Trump, who is likely to take to nomination and run against the likely Democratic choice Hillary Clinton ahead of the election in early November.
For all the latest video game news follow us on Twitter @IBTGamesUK.