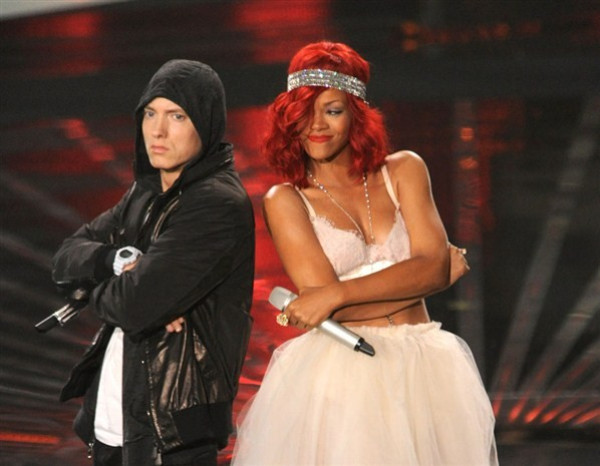 Eminem has recorded a duet with Rihanna for his forthcoming album, The Marshall Mathers LP 2.
The 40-year-old rapper, real name Marshall Mathers, confirmed that he had enlisted the Diamonds singer for collaborative track Monster, by releasing the album's full track listing online.
Eminem also unveiled the cover art for the album on Twitter, which shows a depiction of his childhood home on 19946 Dresden Street.
The vintage-looking snap features the abandoned home, boarded up with an unkept lawn.
Rihanna and Eminem last teamed up for his hit song "Love the Way You Lie".
The Marshall Mathers LP 2 is the star's eighth studio album and includes further contributions with Skylar Grey, Kendrick Lamar and Nate Ruess from Fun.
The record, which is the follow-up to his 2010 album Recovery, is scheduled for release on November 5.
Full tracklist for The Marshall Mathers LP 2:
1. Bad Guy
2. Parking Lot (skit)
3. Rhyme or Reason
4. So Much Better
5. Survival
6. Legacy
7. Asshole feat. Skylar Grey
8. Berzerk
9. Rap God
10. Brainless
11. Stronger Than I Was
12. Monster feat. Rihanna
13. So Far...
14. Love Game feat. Kendrick Lamar
15. Headlights feat. Nate Ruess
16. Evil Twin