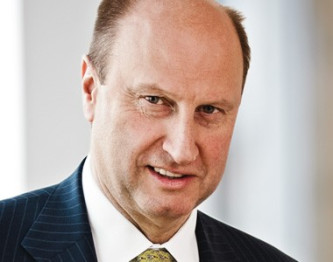 The former chief executive at Barclays' Corporate and Investment Banking unit, Rich Ricci, has re-surfaced just six months after claiming he was retiring from finance.
Ricci, who was one of the last people from Barclays' former chief Bob Diamond inner circle, has invested in Aquis Exchange, an equity trading bourse that was launched last year.
Other shareholders include the Warsaw Stock Exchange, which is set to take a 30% holding, while founder and boss Alasdair Haynes and Aquis staff will own 25%.
Aquis operates in three countries and started trading in November 2013.
In April last year, Barclays revealed that the last set of executives that worked under the bank's previous leader Diamond would leave the bank, only a year after the group was embroiled in one of the biggest financial scandals in history.
Barclays said that Ricci "decided to retire" as of 30 June 2013.
At the same time, Tom Kalaris, the ex- chief executive of Wealth and Investment Management unit, also "decided to retire from the bank" on the same day as Ricci.
Cleaning House
Following Barclays' settlement with US and UK authorities for manipulating Libor in June 2012, the bank lost its Chairman Marcus Agius, CEO Bob Diamond and chief operating officer Jerry Del Missier.
Ricci was one of the last of the high-ranking bankers who reported directly to Diamond to stay on at Barclays after the Libor fixing scandal.
Despite calls for his resignation from lawmakers and the public, he told news outlets in February 2013 that he was "going nowhere" and that he was committed to new chief executive Antony Jenkins' strategy for the investment bank.
Barclays' retail chief Jenkins ended up taking the helm and is now the new CEO at the group, where he vows to turn around the way the bank operates and the environment which has been described as "toxic" by policymakers.
"The notion that there must always be a choice between profits and a values-driven business is false. Barclays will only be a valuable business if it is a values-driven business," said Jenkins in the memo last year.
"There might be some who don't feel they can fully buy into an approach which so squarely links performance to the upholding of our values. My message to those people is simple: Barclays is not the place for you. The rules have changed. You won't feel comfortable at Barclays and, to be frank, we won't feel comfortable with you as colleagues."
Return of Diamond
Diamond has also resurfaced recently after setting up a new Africa-focused investment firm Atlas Mara Co-Nvest, which raised $325m in a London Stock Exchange flotation last month.
Diamond's Atlas Merchant Capital, the merchant bank he set up in New York, will manage Atlas Mara. He is said to be partnering with billionaire entrepreneur Ashish Thakkar, chief executive of Mara Group.
"The Directors believe that there are significant gaps in the market today including the need for capital created by European financial institutions retreating to their home territories due to the sovereign debt crisis and the Basel III regulatory framework at a critical time for growth in Africa," said a statement from Atlas Mara.
"This situation presents opportunities for the Company to execute the Acquisition and to create a financial institution that provides leadership, liquidity, access to investors, product innovation, and technology to support economic growth and strengthen financial systems in Africa."
US investment banking giant Citi was adviser and bookrunner to the IPO.