A father has spoken of his shock on seeing a boy, who he believes is his son, executing a prisoner in a chilling Islamic State (Isis) video. The nine minute propaganda video, which was released on Friday (26 August), shows five young boys murdering a group of captured Kurdish fighters.
Wearing military fatigues and black bandanas, the boys point their handguns in the air before aiming them at the back of the heads of the captured hostages who kneel on the ground in front of them. They fire the bullets into their heads, killing them in cold blood.
The boys , some as young as six, are identified as British, Egyptian, Kurdish, Tunisian and Uzbek nationals in the video, titled The Nations Will Gather Against You.
In the video, the boy was identified by his nom-de-guerre Abu Abdullah al-Britani. His father now believes the blue-eyed British boy in the video is his son JoJo, who he says was once "just a normal kid."
"He was brilliant, just a normal boy – always chasing bugs, going down the park," said his father. "I have had to block it out. It's been hard, we just have to carry on. It's disgusting he's been brainwashed."
The man has not seen his son for three years after the ten-year-old was taken to Syria by his British mother Sally Jones. Jones gave birth to JoJo in Kent in 2004, but split from his father shortly afterwards. She then converted to Islam.
The 47-year-old mother of two, from Chatham, who was declared one of the world's most wanted terrorists by the UN, fled to Syria with the boy in 2013 after marrying an Islamic radical named Junaid Hussain, who was 25 years her junior. It's thought that she brainwashed the boy and forced him to join the IS (Daesh).
A friend of the father said: "Sally would send him texts that were disgusting. She would threaten to take JoJo to Islamic rallies and leave him there. It was awful.
'He was a happy boy, loving, caring, sensitive and a pleasure to be around. I'm angry at Sally for taking an innocent child who doesn't know right or wrong. Children can be easily manipulated. He's an innocent party and I want to know what makes a mother put her child in such a dangerous position," he said.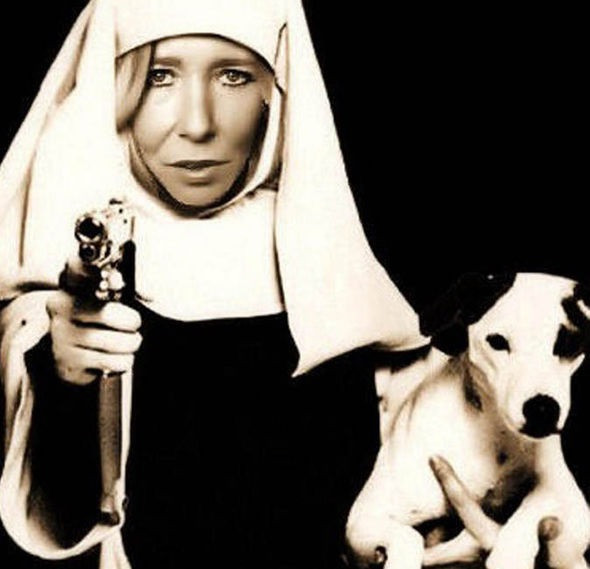 Changing JoJo's name to Hamza they began a new life in Syria as so-called jihadists for IS. While Hussain was killed in a US drone strike last year, Jones continued to live in Syria with her son. Using the pseudonym Umm Hussain al-Britani she has frequently posted threats on social media warning of attacks on the UK.
In January, CNN reported that Kurdish authorities had warned that IS had kidnapped more than 600 children, and suspected they were to be trained as IS fighters or suicide bombers.
Anew report from the anti-extremist think tank Quilliam Foundation, entitled Children of Islamic State (PDF direct download), claims that around 50 children below the age of 10 have been abducted from the UK by IS members. Of those, 12 have appeared in IS propaganda videos.
The Foreign Office said it was aware of the video but was unable to comment further Mail Online reports.