Celebrity dads are no different from normal dads in that they like to be shown lots of appreciation on Father's Day. Luckily for them, their celebrity wives and girlfriends were on hand to ensure they celebrated the day in style.
See what they got up to as they took to social media to share pictures and quotes about how they spent the special day.
Kim Kardashian
For proud parents and newlyweds, Kim Kardashian and Kanye West it was a double celebration as their baby girl North's birthday fell on the same day as Kanye's first father's day. The Trio headed out for a busy day at the Children's Museum in Manhattan followed by a celebratory dinner.
The action-packed day must have been tiring for devoted dad Kanye who fell asleep mid-way through watching a football game later that evening.
Kim posted a cute picture of father and daughter snoozing and gushed:
"This is what life is about! Our baby girl turned 1 today! We played so hard they passed out while we were watching the game! Happy Father's Day to the best daddy in the world! The way you love our daughter and protect her makes me filled with so much love!#BestDayEver #Twins #HappyFathersDay#HappyBirthday"
Grandma Kris Jenner also shared her admiration for Kanye, she posted a touching photo collage of the family and said "Happy Fathers Day #KanyeWest !!!! You are an amazing Daddy and I love you!!!! #blessed"
Gisele Bundchen
Gisele Bundchen, her husband Tom Brady, dog Lua and their children Vivian and Benjamin Brady went for a stroll and played in Boston park to celebrate father's day.
The Victoria's Secret supermodel shared a photo of her husband on instagram and praised him for being a wonderful father.
She said: "Thank you my love for being such a loving and wonderful father. We love you so much!!! Happy Father's Day!❤️❤️❤️ Obrigada meu amor por ser um pai tão amoroso e maravilhoso. Nós te amamos muito!!! Feliz Dia dos Pais!"
Mariah Carey
For Father's Day Mariah Carey treated hubby Nick Cannon to a cosy family day at home. The proud father of twins Morocan and Monroe, woke up to find the house decorated with balloons and enjoyed a gorgeous continental brunch.
"Happy Early Father's Day!!" said Mariah on Instagram.
Ciara
Singer Ciara posted a precious photo of her newborn son Future with a touching tribute to her fiance who is also called Future on Instagram.
"From The Moment Baby Future Arrived, He Was Holding Your Hand So Tight, He Knew You Were Dad. Seeing That Melted My Heart... When I Look At Him, I See You Shining Through, And That's One Of The Most Beautiful Things Ever! You Are Truly One Of The Realist, Most Caring, Hard Working, Loving Dads In The World, and I'm So Proud Of You.I Love You. Happy Fathers Day"
Hilaria Baldwin
The wife of actor Alex Baldwin posted an adorable picture of the family enjoying their day in the sun-shine. She said: "Happy #fathersday to @iamabfalecbaldwin, my papá, & all you other daddies out there! #hilariaypd (family dandasana) #yogapostureoftheday"
Beyonce
Beyonce posted a cute picture of hubby Jay Z carrying their daughter Blue Ivy on his shoulders with the simple caption "Happy Happy fathers day". There isn't any news of what the couple got up to on the day but the family recently returned from a holiday in the Hamptons. Beyonce is known for splashing out on expensive gifts for her husband such as the private jet he got for Father's Day last year so we are sure he got spoiled.
Rhianna
Rhianna paid a touching tribute to her own father Rondald Fenty (pictured in the middle) she said
"Happy Father's Day Pops! I love you deeply and unconditionally! You've taught me so much about myself! #DAD."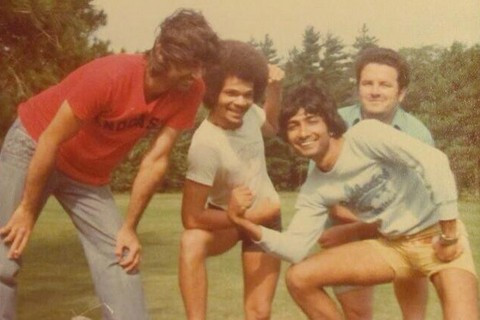 She followed it up with more tweets praising dads:
"Happy Father's Day to the step fathers who step up for the fathers who cant! And especially to the Mothers who have to be both, we adore you," Rihanna wrote on Twitter. "#DAD was the word, but all he heard was 'Why?' and 'How?' and 'How do you know?'.... And you always had answers! That's what I think of...whenever I think about #MyDad," she added