Former Miss Finland becomes 12th woman to accuse Donald Trump of sexual misconduct
Ninni Laaksonen, 30, alleges that the GOP candidate groped her during a photocall in 2006.
A former beauty queen has become the twelfth woman to accuse Donald Trump of sexual assault.
Miss Finland and Miss Universe contestant Ninni Laaksonen, 30, has alleged that the GOP candidate grabbed her behind, during a photocall outside the Ed Sullivan theatre, before they were due to appear on the Late Show with David Letterman in 2006.
Recounting the alleged incident the 30-year-old model told Finnish newspaper Ilta-Sanomat: "Before the show we were photographed outside the building. Trump stood just caught me and shook me suddenly, pepusta.(posterior)'
"I don't think anybody saw it but I flinched and thought: 'What is happening"? '" she explained.
Describing the 57-year-old billionaire as a 'pretty slimy man', she added that she was 'disgusted' after she heard at a party that Trump compared her to his wife, Melania.
"Somebody told me there that Trump liked me because I looked like Melania when she was younger," Laaksonen said. "It left me disgusted."
Mail Online reports that the Finnish model said she had remained silent about the incident until now since she feared it would damage her career. "In such a situation [you] cannot say anything negative," she explained.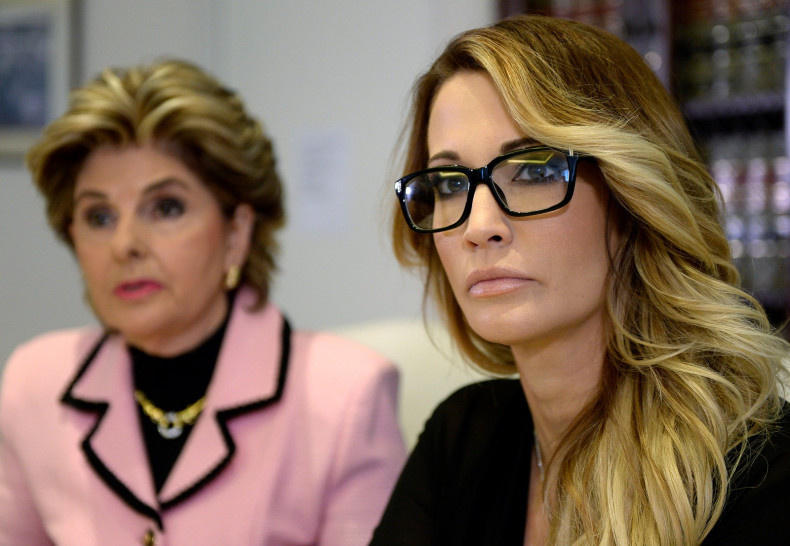 The Republican candidate has faced mounting accusations from women accusing him of sexual misconduct. Jessica Drake, Kristen Anderson, Lisa Boyne, Temple Taggart, Cathy Heller, Karena Virginia, Mindy McGillivray, Rachel Crooks, Natasha Stoynoff, and Summer Zervos all came forward with their accounts of alleged abuse in response to the Access Hollywood video in which the property mogul is heard bragging about sexually assaulting women.
"I'm automatically attracted to beautiful - I just start kissing them. It's like a magnet. Just kiss. I don't even wait," he said. "And when you're a star, they let you do it. You can do anything. Grab them by the p***y."
Trump's offensive remarks have affected his popularity in the polls and sparked a public outcry prompting his running mate Indiana Governor Mike Pence and several senators and congressmen to withdraw their support for the billionaire property mogul. Celebrities have also joined in the clamor against Trump, with Robert De Niro branding him "blatantly stupid".
Donald Trump has vehemently denied all of the allegations made against him claiming they are a "total fabrication" and has threatened legal action against his accusers.
He is also reportedly planning to sue NBC for the 'illegal' release of the Access Hollywood hot mike recording.