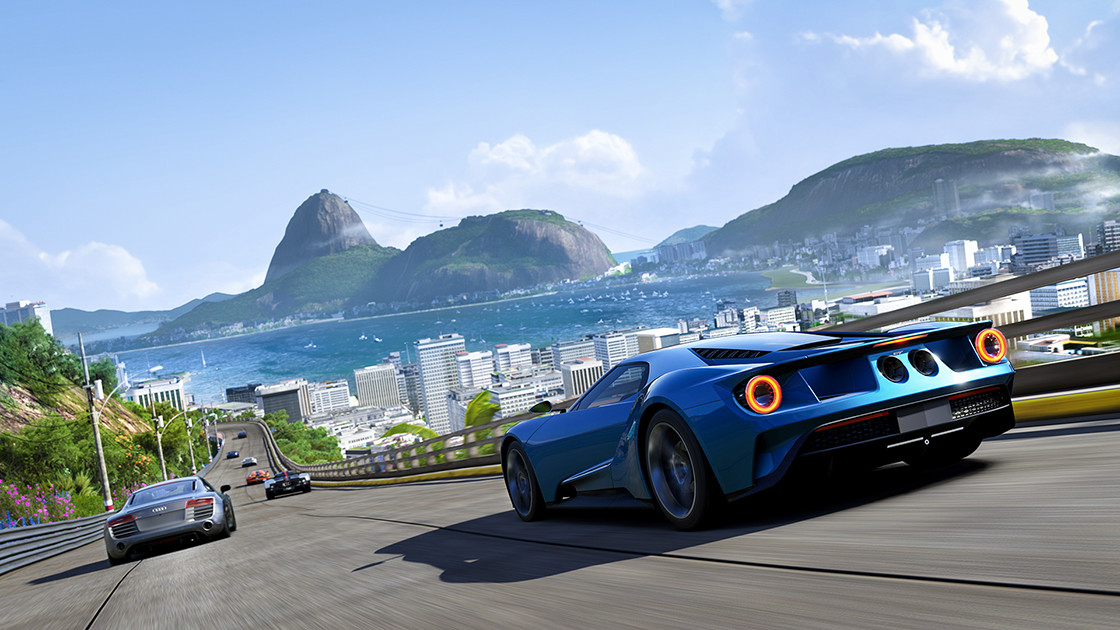 Racing games released as regularly as Forza Motorsport and its biennial sibling Forza Horizon are in danger of becoming the Fifas of their genre. With the graphics and gameplay pretty much cracked, and the track and car rosters as long as they would ever need to be, what more can be added to inject new life worthy of their £50 price tag? For 2015, Forza Motorsport 6 adds rain, night racing and a wide range of historic motorsport-themed challenges.
After Forza 5 failed to deliver a game as feature-packed as Xbox One owners deserved - and with Project Cars and the PlayStation 4's DriveClub earning widespread praise, developer Turn 10 Studios needs to reach the top step of the podium with Forza Motorsport 6.
Forza Motorsport 6 review: what's new?
The two major upgrades over all previous versions of Forza Motorsport are weather effects and night-time racing. Unlike Project Cars and Gran Turismo, these do not come in gradually and are not dynamic. Instead, some tracks have the option of driving them in the day or night, and in the dry or wet. It's a simpler approach than Project Cars, but one which works well, because the vast majority of Forza 6's races aren't long enough for any noticeable dry-to-wet or day-to-night transitions to take place.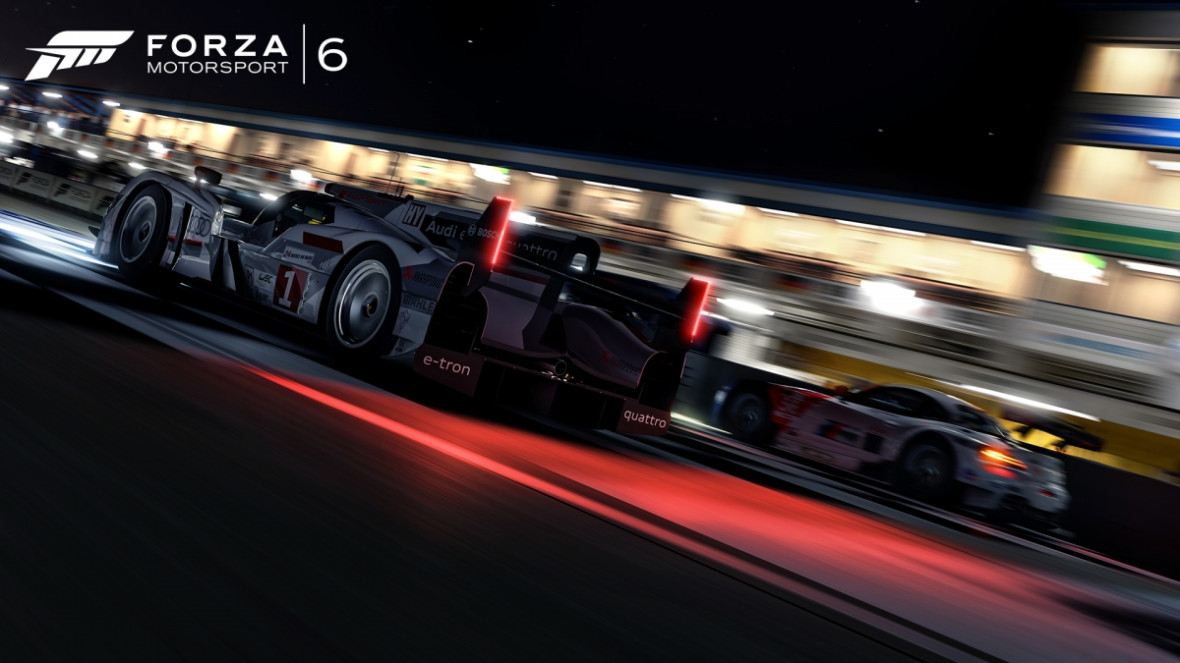 Yes, a one-hour Le Mans which cycles through 24 hours would be nice, but endurance races really aren't Forza's thing; this is a game which you can jump in and out of quickly - save for a small selection of longer races of up to 250 miles. Night races are as eye-straining as you would expect - especially on unlit circuits like Le Mans and the Nurburgring Nordschleife - with your own headlights often becoming the only light source illuminating an otherwise pitch black track. Night racing at lit circuits like Yas Marina are beautiful, especially when multiple shadows of two dozen cars dance around you at every corner.
Competing in the race is equally beautiful. Surface water doesn't build up dynamically as it does on Project Cars, so instead each wet race begins in a soaking wet deluge. Large puddles of standing water are scattered across the track (where they would in real life, the developers say), and putting a wheel into these causes your car to aquaplane and veer violently towards them. The weather effects add a challenging new degree of difficulty to the game without making it impossible, as wet driving in Gran Turismo - and especially Project Cars - can often feel like. Forza Motorsport has always been the more accessible of the three, and for its sixth outing this remains so.
I particularly liked how the grassy infield sections would look muddy and boggy towards the curbs, where drivers have dropped a wheel or two off the side of the tarmac and cut grooves into the grass. It's hard to tell whether these are dynamic or not; I suspect they aren't but it's a nice visual treat regardless, and strongly persuades you to keep well clear - for fear of ruining your car's perfect paintwork as much as spinning out.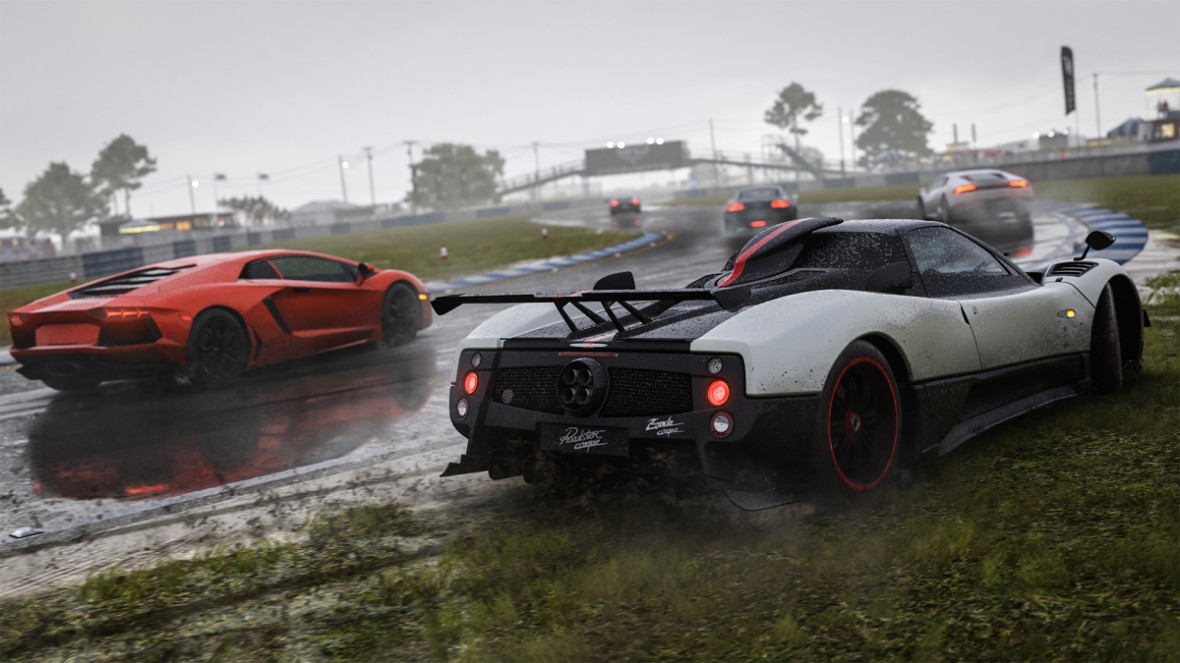 Forza Motorsport 6 review: career mode and cars
Motorsport has always been part of Forza's name, but complex licensing issues mean the series has rarely offered any complete race series like Formula One, the British (or World) Touring Car Championship, or World Endurance Series. Some cars from every one of these appear in Forza 6, giving you enough to create decent same-series races on a good range of the tracks used by them. But a welcome addition to this do-it-yourself solution is Moments in Motorsport.
A subsection of Forza 6's career mode, this introduces you to a wide range of racing machinery from the last century - and lets you race all sorts of cars without saving up to buy them. You can battle against a full grid of 1930's Auto Unions and Ferraris (cars where you reach outside to change gear) at Spa Francorchamps, and take Niki Lauda's 1976 Ferrari to Hockenheim. There are also races packed full of 1960s Ferraris, and in a separate section a series of challenges where you must overtake as many slow cars as possible in two laps. One frantic race sees you lap the 2015 Lotus F1 car around Spa while overtaking 100 original Minis. Your eyes will be on stalks before the end of lap one.
Forza 6 has 420 cars - all with fully detailed interiors and available to look around in Forzavista. They can also all be modified and customised to your heart's content. I knocked up a Ford Transit van with 1,000 horsepower for no reason at all, then bought a Mini Cooper like mine, painted it the same shade of blue and added vinyls to resemble my number plates. This huge, almost limitless, customisation puts Forza leagues ahead of Project Cars, which feels like you are borrowing someone else's cars (complete with made up sponsors) rather than buying and racing your own collection.
Top Gear's involvement with Forza 6 was no doubt cut at the last minute following the BBC not renewing Jeremy Clarkson's contract. He is no longer a part of Forza, but the voices of co-presenters Richard Hammond and James May remain, albeit with nothing linking them to the hibernating BBC show. The Top Gear track, complete with daft/fun challenges, and the Stig, who you compete against in a series of races, remain.
Forza Motorsport 6 review: other new features
Forza 6 has two new perk systems aimed at giving players more in-game money and gifting them expensive and interesting cars in a fraction of the time it would take to save up for them. The first is mods, a system where one or several mods can be used during each race; these let you use perks like a 20% improvement in braking performance, but to be honest I found myself ignoring the feature almost entirely. I'm sure it can help you earn credits more quickly, but I'd rather work for my credits on track than by tweaking the mods system.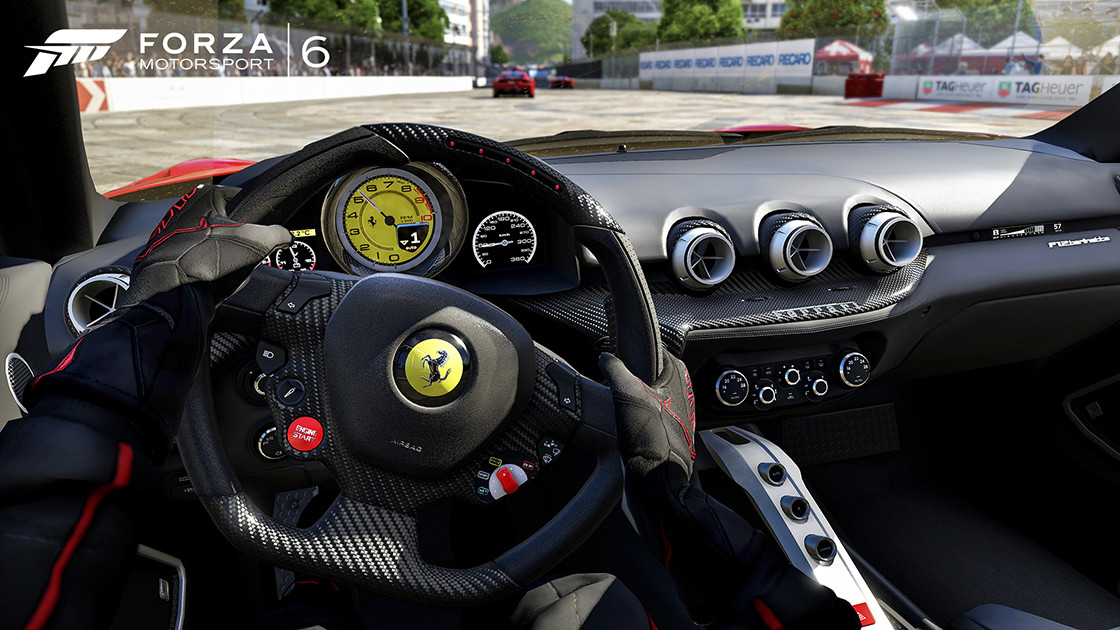 The second new perk is a lottery system called Wheel Spins, borrowed from Forza Horizon 2. Every time your driver level increases (almost every other race, initially) you get given a randomly selected new car or a wad of cash. The problem is how easy this makes the first few hours of the game, because my second spin earned me 1,000,000 credits, enough to buy a LaFerrari, one of the fastest cars in the game. Another issue I have with Forza 6 is how, when cars are bought in career mode, they are automatically tuned up to be competitive in the next championship of races you're about to take part in. So I ended up with an undriveable 300-horsepower Mini Cooper when I had hoped to get one with half the power and which I could tune up gradually how I wanted it.
And when you're in these mini championship of races (usually six rounds apiece), there are no points awarded for each race and no points table. You just have to finish above a certain place to progress to the next race. Finish in fifth, then you must try again. I'd much rather let that poor performance stand, then work out how much I need to do in the remaining round to be champion. These are motorsport basics. Motorsport 101, and Forza 6 gets it wrong.
It's a shame, because I really like how the game is split up into sections dealing with all manner of cars, from hatchbacks and saloon cars, to track toys, SUVs, supercars, hypercars, race cars from every class and era you can imagine... the breadth of cars available is truly staggering, and their handling is excellent, with each feeling unique and realistic.
The sixth generation of Forza Motorsport absolutely makes up for the damp squib which was Forza 5. There is a huge, gargantuan depth to this game, from the hundreds of cars and two dozen tracks, to the rain and night racing, and the huge number of themed events cataloging almost a century of motorsport in great detail. The dynamics aren't as hardcore (or realistic) as in Project Cars, and the sound isn't a patch on that game either - although it's often good enough, and much better than Gran Turismo 6.
Forza 6 can still be very difficult if you want it to be, but where the challenge in Project Cars is keeping the damn thing on the track and in a straight line, Forza 6 will let you drift and slide to your heart's content, but your intelligent rivals will always keep their noses ahead if you set the difficulty high enough.
Forza Motorsport 6 review: the verdict
Our verdict
Any petrolhead should buy Forza 6 without a second thought - they will get some serious enjoyment out of it - and even those who don\'t know their Sierra Cosworths from their Huracans should give it a try. The racing can be as easy or difficult as you like, but however you tweak the settings the fun will always shine through.
For all the latest video game news follow us on Twitter @IBTGamesUK.