Gambia's new leadership will prosecute outgoing president Yahya Jammeh for the crimes he allegedly committed during his 22 years in office, the chair of the country's new ruling coalition has said. Jammeh has been often criticised by rights groups and the international community for alleged human rights abuses.
The defeated ruler, who assumed power following a bloodless coup in 1994, lost to Adama Barrow of the United Democratic Party (UDP) opposition party during presidential election held on 1 December.
Barrow, a former businessman who worked as a security guard at an Argos store in London, was appointed as the head of a coalition of opposition parties earlier this year.
Jammeh conceded defeat and said he wanted to go back to his farm in his native village in Kanilai, on the border with Senegal.
However, the ruling coalition fears Jammeh would try to escape to Senegal or start an insurgency.
"He can't leave. If he leaves, he's going to escape us. We are stopping him from leaving. We are negotiating. He said he wants to go to Kanilai. Any day he tells us he wants to go abroad, then we say no. It's the presidential prerogative,"Fatoumata Jallow-Tambajang, chair of the ruling coalition, told The Guardian.
She also said the new government is planning to rejoin the International Criminal Court (ICC). Earlier this year, Jammeh's government announced it would leave the court alleging it "ignores war crimes" committed by Western countries.
However, some people claimed the decision was made to avoid a possible prosecution of Jammeh for alleged human rights violations.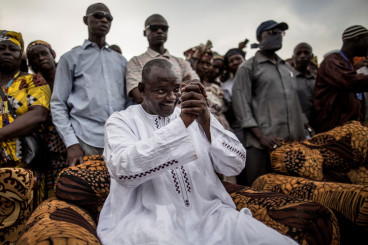 Pre-election violence and ethnic tensions
Gambia was criticised for the way it handled pro-democracy protests in the capital Banjul, in the lead-up to the election.
Dozens were arrested earlier this year after taking to the streets of the capital Banjul, calling for electoral reforms and Jammeh's resignation.
Authorities deemed the protests illegal as demonstrators had failed to obtain permission from the police. The opposition claimed two members of UDP died in detention.
In June, Jammeh stirred outrage after claiming members of the Mandinka ethnic group, estimated to make up 42% of the country's population (714,000 out of 1.8m), were "enemies and foreigners." He was accused by rights groups and the UN of inciting tensions for claiming, among other things, that he would relocate "the Mandinkas where even a fly can't see them".