Google doodle celebrated the acclaimed author Charles Dickens' 200th birth anniversary featuring characters from his literary workers on Tuesday.
The doodle features characters including Ebenezer Scrooge from The Christmas Carol and Pip from Great Expectations. A click on the doodle will lead one to Google's ebooks page displaying the popular works of Charles Dickens.
Google creates new doodles with decorative changes to its logo to celebrate special events, anniversaries, and the lives of famous personalities including scientists and artists.
The internet giant started the practice in 1998, with the "Burning Man" Festival and has now more than 1000 doodles.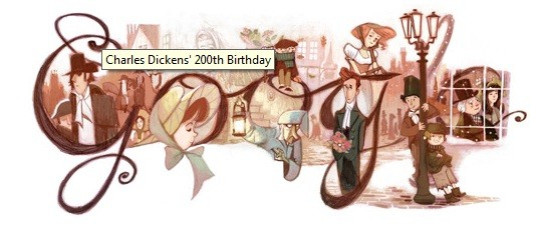 Meanwhile, in Britain, the Prince of Wales and the Duchess of Cornwall would be leading the global celebrations to mark the 200th birth anniversary of Charles Dickens.
As part of the celebrations, the British Council would be conducting a 24-hour "Read-a-thon," involving 24 countries from Albania to Zimbabwe starting from Australia with a reading from Dombey and Son.
Prince Charles would lay wreaths at Dickens' grave in Poets' Corner in Westminster Abbey and his birthplace in Portsmouth, Hampshire.
At the Westminster Abbey event, extracts from Charles Dickens' "Bleak House," would be read by Mark Dickens, great-great-grandson of Charles Dickens. Other celebrities who would be reading at the event are Ralph Fiennes, who plays the character Magwitch in the new movie adaptation of "Great Expectations," and Claire Tomalin, Dickens' latest biographer.
Reading events would also be held at the Charles Dickens Museum in Doughty Street, Holborn, St Mary's Church, Portsmouth.
Born in Landport, Hampshire on February 7, 1812, Charles Dickens was forced to work in a blacking factory, attaching labels to polish bottles at a tender age of 12.
He handled topics such as injustice, poverty and misery in his works which are said to be the reflection of his bitter childhood.