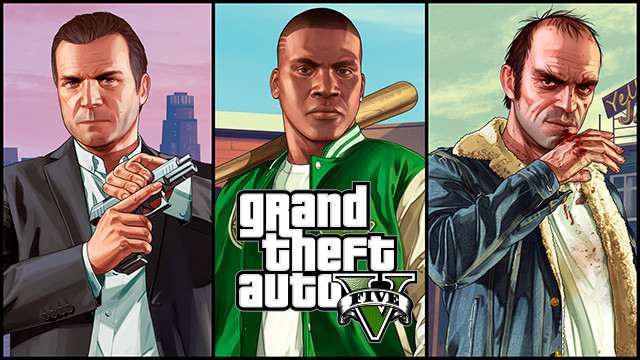 Prospective buyers of GTA 5 Next-gen are in for some great news, as the internet is abuzz with speculation of exclusive DLC content being rolled out for the next-gen consoles including the PC with the forthcoming re-mastered edition of the game.
Owners of PS3 and Xbox 360 will be eligible for exclusive DLC packages including new Hatchet and Rail gun weapons, as well as a bunch of new custom cars in GTA 5, when they purchase the next-gen version of the game.
Renowned YouTuber DomisLive (aka Dom) has revealed a couple of screenshots pertaining to the DLC in his latest video, which describes the looks and functionality of these brand new weapons that are expected to be unveiled as part of GTA 5 Next-gen release.
The first leaked screenshot for the next-gen DLC clearly reveals Michael wearing a mask and holding a Rail-gun, which is said to be powered by electricity and characterised by the Red barrels that seem to light up at the time of firing the ammo.
It seems the Rail-gun has surfaced via leaked screenshots for the first time, as in a previous instance only a stun-gun had been showcased as part of the GTA 5 gameplay video.
Those who are wondering about the Rail-gun's working principle should note that it is an electrically powered electromagnetic projectile launcher based on similar principles to the homopolar motor.
As the YouTuber admits, it is still unclear if Rockstar Games plans to unleash a stun gun, or a fully-accurate assault rifle with long-range dynamics or a laser gun for its ultimate destruction capabilities.
The second screenshot pertaining to the same leaked DLC reveals a Hatchet that should be a perfect melee weapon for GTA Online, given the razor-edge of the blade with a short wooden handle for a precise grip.
In another video, the same YouTuber sheds some light on a bunch of new custom cars, Imponte Duke O'Death and Rare Muscle cars, which are expected to be part of the GTA 5 re-mastered edition for next-gen systems.
First of the lot among the leaked custom cars for next-gen DLC is the Imponte Duke O' Death with bullet-proof armour for the windows, doors and the windshield.
Next up in the list includes a bunch of stock muscle cars that can be customised to their limits with painted logos and custom decals of popular companies and restaurant chains in the US such as Redwood and BurgerShot.
Do you think any of these rumours and leaks with custom cars and DLC weapons would come true in GTA Online? Please leave your comments below.