Rockstar is yet to officially confirm the release date for the highly-anticipated Heist DLC for GTA Online, while discerning GTA 5 gamers and tipsters are busy unearthing more hidden details pertaining to heist missions in leaked game files.
One such renowned GTA 5 tipster, DomisLive (aka Dom), has shed some light on the Cops n Crooks heist missions that have reportedly surfaced online via a leaked screenshot (see below) pertaining to the DLC script found in game files.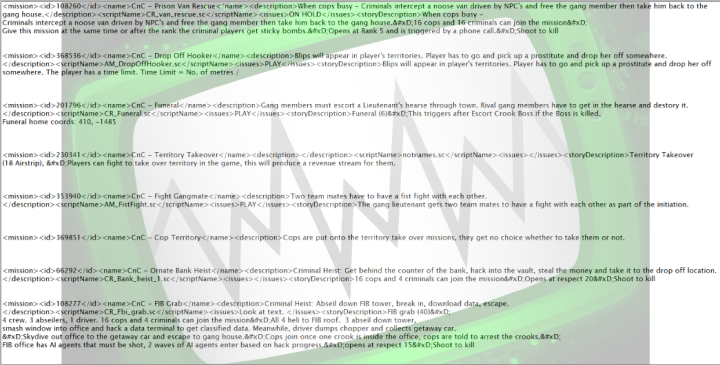 Two of Dom's friends reportedly decided to pass on the leaked information to the tipster, given the curiosity and eagerness among restless gamers regarding the details of the long overdue Heist DLC for GTA Online.
The tipster reveals that he has information about 30 to 40 DLC missions which are expected to release for GTA Online in the near future.
Dom further notes that he can disclose all the information pertaining to leaked game files and missions, but he has no access to the official release date for the same.
The leaked screenshot pertaining to the heist missions lists out the mission objectives while also giving a complete picture of what to expect with the upcoming Heist DLC release.
Here is the complete list of Cops n Crooks heist missions, as depicted in the screenshot:
Prison Van Rescue
Drop off Hooker
Funeral
Territory Takeover
Fight Gangmate
Cop Territory
Ornate Bank Heist
FIB Grab
The leaked information details key mission gameplay elements including objectives, number of players supported and minimum ranking or prerequisites to unlock each of these missions.
The best part of these missions is that AI bots will be replaced by real players on both the sides wherein one team will assume the role of Cops and the other will play as Crooks. Hence these missions are aptly titled Cops n Crooks or CnC.
As rumoured earlier, the FIB heist mission (aka FIB Grab) seems to be the toughest of the lot as the ensemble of star-cast for this mission includes 4 crew, 3 abseilers, 1 driver, 16 cops and 4 criminals.
The objective of the FIB mission is to hack classified government data, while 2 waves of AI agents try to stop the criminals from securing confidential data.
For more details including description of each of the missions, check out the video below:
See Also: GTA 5: First Person Mod Gameplay Video Revealed for PC and Consoles