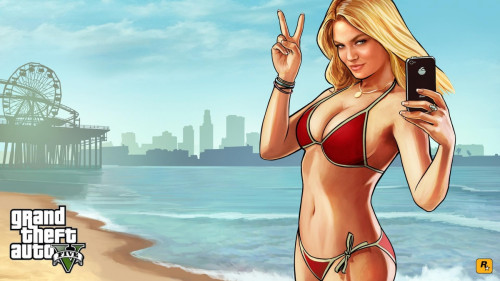 News of an impending GTA 5 PC release has gained momentum, following a spate of recent leaks and rumours surrounding the highly-anticipated title release for the PC. PC gamers have been eagerly awaiting Rockstar's announcement of PC version for GTA 5, ever since the game's console release (Xbox 360 and PS3) last September.
Though there is still no official word about the PC release date for GTA 5, speculation is rife that the game's PC version will arrive earliest by March 2014 or latest by mid 2014. IBTimes UK explores the top reasons for an imminent PC release of GTA 5.
Brazilian Retailer, Nuuvem, Confirms GTA 5 PC release
Brazilian retailer, Nuuvem, has confirmed in a recent interview held by Codigo Fonte (a Brazilian publication) that the highly-anticipated game title, GTA 5, will hit the PC platform on 12 March.
Thiago Diniz, Nuuvem's director of digital distribution of games had this to say in the interview:
"I see no problem talking. I think until now been confirmed. Is scheduled for March on PC, if I'm not mistaken, for the 12th," as translated by Techinews.
This is a big hint that a PC release for GTA 5 is definitely on the cards.
Leaked GTA 5 PC Footage Goes Viral Online, Faces Copyright Ban From Take-Two Interactive
A leaked PC footage of GTA 5 recently surfaced online, creating a lot of buzz on the internet. The video was first spotted online by Junkie Monkeys who attributed the work to a YouTube user warrockteam1 of GTA 4 mods fame.
Though the footage appeared to be a fake, it was abruptly taken down by Take-Two Interactive on grounds of copyright infringements to its intellectual property.
Owing to the shutdown, the leaked video is no longer accessible to the public. However, users get to read the message: "This video is no longer available due to copyright claim by Take 2 Games."
This is a good hint that PC version of GTA 5 could be under works with superior graphics and gameplay improvements in the making.
GTA 5 PC Petition Garners 650,000 Signatures, Rockstar Hints at PC Release
As of 13 January, the PC petition campaign started by Mike Julliard at change.org, has reportedly garnered more than 650,000 signatures in response to Rockstar's statement in an interview that gaming platforms other than Xbox 360 and PS3 are being considered for future re-release of GTA 5.
Dan Houser, the co-founder and vice-president of Rockstar Games had this to say in a recent interview on GTA 5:
"Everything else is up for consideration," said Houser.
"That's all I can give you. The main thing is we are not... we are a third-party publisher. We're not Nintendo, we're not Sony, we're not Microsoft. We love all of them in different ways. But we can do what we want wherever there's the appropriate business opportunity and chance to find a market. If that's on Apple we put something on Apple. Wherever it might be."
Going by the official statement, a PC release for GTA 5 cannot be ruled out.
GTA 5.exe Found in Binary Code of Every AMD Catalyst Driver Update
Just a few months ago, AMD released its 13.11 Beta 6 Catalyst drivers with support for its newest graphics cards R9 290X and R9 290. The driver update also added improved game performance for Batman AO along with some optimisation code for GTA 5.
Following the AMD Catalyst 13.11 Beta 6 release, the GTA 5 game-driver optimisation code has appeared in all subsequent AMD driver updates.
This is another strong reason why PC release for GTA 5 is almost guaranteed.
Leaked Game Codes of PC/PS4 Versions of GTA 5
The leaked game codes of PC/PS4 Versions of GTA 5 hint at support for DX11, X64, 2k Textures, Bloom Effects and more. With due credit to Reddit user, Hal_Nein_Thousand, here is the details of leaked game code for PC version of GTA 5:
985459 – PC – [PT][PB] Crash – > game_win32_beta_dx11.exe!strRequest::Release() Line 47 + 0xf bytes C++
614622 – [LB][PT][LDS][DX11] Blooms too much on smog weather setting.
632447 – [PC] All the phones are very dark and hard to read
496009 – [PC] Debug picker seems to be non-functional
(no x64 prebuild cover) – Boot checks completed only.
Base AudioCL#s: Playstation 3 and XBOX: 3772801; PC CL 3773483
The leaked game code not only suggests a definite DX11 based port for PC, it reiterates the fact that the PC version of GTA 5 is undoubtedly under development.