This year, the Caribbean and the southeastern United States have been battered by some of the most powerful storms ever recorded. Since 1 June 2017, there have been ten Atlantic hurricanes – six of which were Category 3 or stronger. This makes 2017 the most turbulent year since 2005, which had Katrina, Rita and Wilma – and there are still six weeks until hurricane season ends, on 1 November.
This year's monster storms – Harvey, Irma and Maria – caused so much damage that this will almost certainly be the costliest hurricane season on record. Harvey spawned record rainfall,Irma was the strongest hurricane ever recorded in the open Atlantic, and Maria caused catastrophic devastation in the Caribbean. IBTimes UK looks back at the 2017 Atlantic hurricane season in 60 powerful photos.
---
Hurricane Harvey was the most powerful hurricane to strike Texas in more than 50 years when it came ashore on 25 August near Corpus Christi, about 220 miles (354 km) south of Houston. Some areas received more than 40 inches (100 cm) of rain over a four-day period, leading to catastrophic flooding. Harvey caused at least 90 deaths.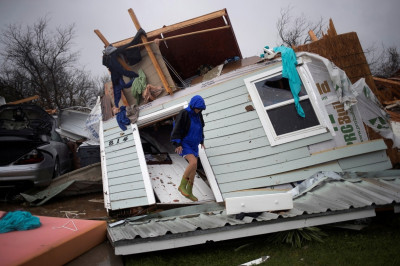 Hurricane Irma ravaged a series of small islands in the northeast Caribbean, including Barbuda, Saint Martin and the British and US Virgin Islands, before raking Cuba and the Florida coast. Hurricane Irma caused at least 134 deaths.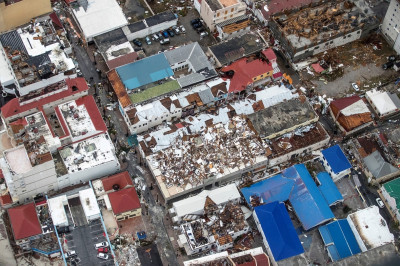 Hurricane Maria left a trail of devastation across the Caribbean, piling more misery on people living on islands that had been hit by Irma. Maria caused catastrophic damage to the island of Dominica and a major humanitarian disaster on Puerto Rico. At least 93 people are known to have been killed by Maria, but many people are still reported as missing.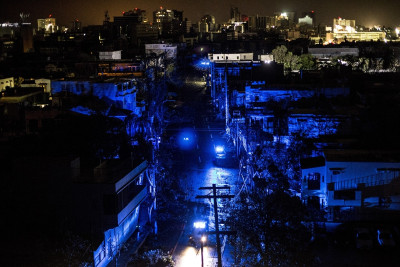 Scientists use a measure called Accumulated Cyclone Energy, or ACE, that factors in wind speed and storm duration to gauge hurricane power. In an average year, the ACE is just under 100. This year's ACE is more than double that – and there are still six weeks left until the season ends on 30 November.
2017 is the only season on record in which three hurricanes each had an ACE of over 40: Irma, Jose, and Maria. The season also featured the easternmost major hurricane on record, Ophelia.
The remnants of Hurricane Ophelia battered Ireland on Monday (16 October), killing at least one person and causing widespread power outages as the storm headed for Britain. The first known victim was a woman who was driving near the Irish village of Aglish when a tree fell on her car, authorities said. Gusts of up to 80 mph were reported 30 years to the day after a weather event dubbed the "Great Storm of 1987" battered southern England and killed 18 people.