All the action is kicking off with the Hollyoaks residents ahead of the big Christmas Day climax. The McQueens are now aware of Cleo's relationship with Pete, which results in Porsche and Reenie calling the police to talk to the youngsters about their inappropriate relationship. However, Cleo refuses to co-operate with the police after learning that her relatives were behind their visit.
The youngster cannot keep away from Pete and when they meet secretly, he persuades her not to give anything away about their relationship. However, Harry is pressuring Cleo to end their union or else he will tell the McQueen family that she has been secretly visiting him. Celine attempts to get Pete to confess about his underage relationship but when the police arrive to question him, he points the finger elsewhere and instead tells them about Reenie running him over, resulting in her arrest.
After giving into her curiosity, Pete tells Cleo that his mystery key is actually for a lock-up where he stores photos of them together. Unable to keep quiet, Harry exposes Cleo's big secret to Celine and Reenie, who find the lock-up's address on Cleo's laptop and go off in search of the illicit couple.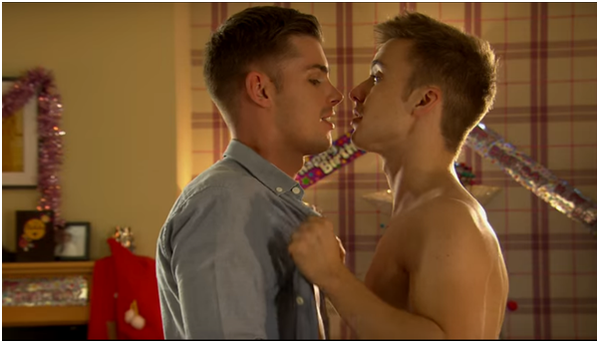 Myra's suspicions about Diego grow when their camper van is ransacked and she discovers a recent photo of him with another woman. Diego manages to pacify her by declaring his love but he later takes a secret phone call, telling the person at the other end: "I love you, Maria." After confiding in her son John Paul, Myra is encouraged to unearth the truth about the mystery woman, apparently Maria, in the photo with Diego.
Elsewhere, Ellie tries to matchmake Nathan and Porsche. When Rachel walks in on the moment, she is furious and winds up getting into a fight with Nathan. Nico is blamed for Jason's accident and her mother Sienna contemplates sending the teen to boarding school. Also, Patrick puts his plan into motion to frame Maxine and succeeds in manipulating Jason into becoming suspicious over her behaviour.
Plus, John Paul finds the strength to give his blessing to Harry and Ste's romance but the latter suddenly has a change of heart and tells Harry that their night of passion was a mistake. Will this send Ste tipping over the edge and into a bottle of wine?
Hollyoaks airs weekdays at 6.30pm on Channel 4.
Watch the Hollyoaks winter trailer: