Cydia, the iOS jailbreak app store, seems to be affected with a new issue resulting in "failed to fetch" error on an iOS 9 device jailbroken with Pangu. It is ascertained that the issue crops up soon after re-launching Cydia after "Preparing the File System" and allowing the device to respring for first use after the jailbreak.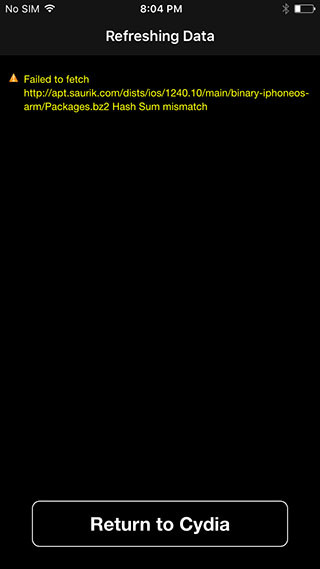 According to iPhone Hacks, the error message reads: "Failed to fetch http://apt.saurik.com/dists/ios/1240.10/main/binary-iphoneos-arm/Packages.bz2 Hash Sum mismatch"
This occurs immediately after re-launching Cydia on a Pangu jailbroken iOS 9 device. Consequently, Cydia fails to load all repos and packages, and thereby prevents installation of new jailbreak tweaks.
Folks at iPhone Hacks have confirmed that several quick-fixes such as quitting Cydia and relaunching it, rebooting the device or using the volume up trick during reboot, does not seem to fix the problem. Even tapping the Refresh button seems to make no difference to the persistent error.
Those who are wary of restoring or rejailbreaking their device to overcome this issue can try a simple fix outlined in the steps below:
Disable the Wi-Fi feature on the device and try using the 3G (cellular data) option or connect your device to your iPhone's Hotspot.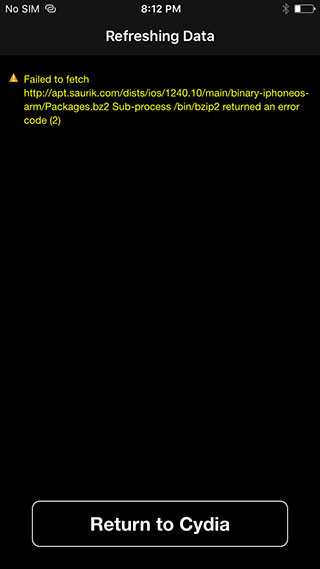 Tap on Refresh button from the Sources tab, once you have disabled the Wi-Fi option on your iOS device. At this moment, the "failed to fetch" error message should resurface, albeit without the second part - "Hash Sum mismatch", as seen in the earlier message.
However, tapping the Refresh button from the Sources tab again seems to resolve the issue in most cases. The status bar should now say Reloading Data and you should now be able to install new jailbreak tweaks on Cydia without further hassle.
Note: It is confirmed that the fix works fine on both the iPhone 6s and iPhone 5s devices.