Carrie Fisher's daughter Billie Lourd stands to inherit nearly $7m (£5.4m) following her mother's tragic death, new court documents have revealed.
The legendary Star Wars actress passed away from Sleep apnea and a combination of other factors, on 27 December 2016. The Los Angeles County Department of Medical Examiner-Coroner report also indicated that she tested positive for cocaine, methadone, ethanol and opiates.
People magazine has obtained the documents filed by Fisher's estate executor and they show that the Scream Queens actress was left $6.8m in personal property.
Fisher's mother Debbie Reynolds - star of beloved classics such as The Unsinkable Molly Brown and Singin' In The Rain - passed away a day after her daughter from an intracerebral haemorrhage, with hypertension a contributing factor.
The estate that Fisher shared with Reynolds is currently om the market for $18m and the proceeds from the sale will likely be incorporated into Lourd's trust.
Lourd will also inherit the rights to her mother's public image and likeness, as well as her intellectual property rights. This means all proceeds from Fisher's books, specials, trademarks and copyrights will go to her.
It was previously revealed that the 25-year-old was to be given plenty of assets including bank accounts, a 2016 Tesla S, ownership of several LLCs and a life insurance policy.
Fisher played Leia Organa in the original trilogy (1977 - 1983) of Star Wars films, returning for 2015's The Force Awakens. She will make a posthumous return to the franchise in The Last Jedi, having completed filming last year before her untimely passing.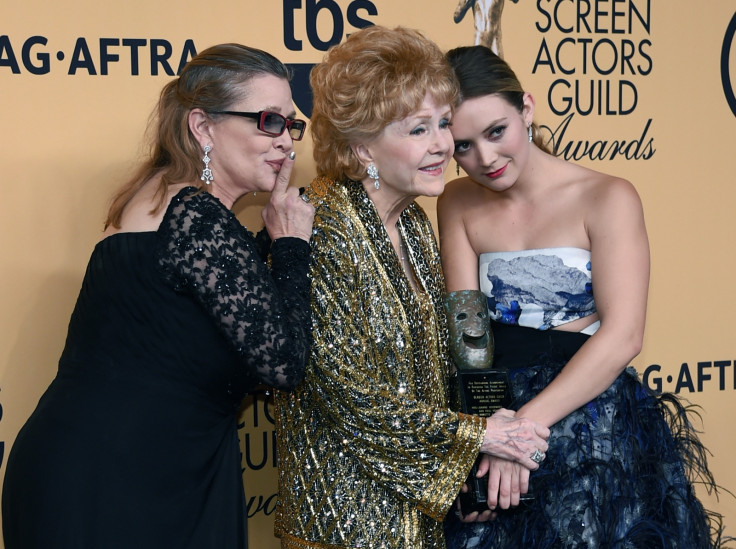 Lourd recently opened up about her desire to continue her mother's legacy while also blazing her own trail. "If life's not funny, then it's just true — and that would be unacceptable. Even when [Fisher] died, that was what got me through that whole thing," she said during a candid interview with her American Horror Story co-star Sarah Paulson. "When Debbie died the next day, I could just picture [Fisher] saying, 'Well, she's upstaging me once again, of course — she had to."
She added: "Now is the first time in my life when I get to own my life and stand on my own. I love being my mother's daughter, and it's something I always will be, but now I get to be just Billie."