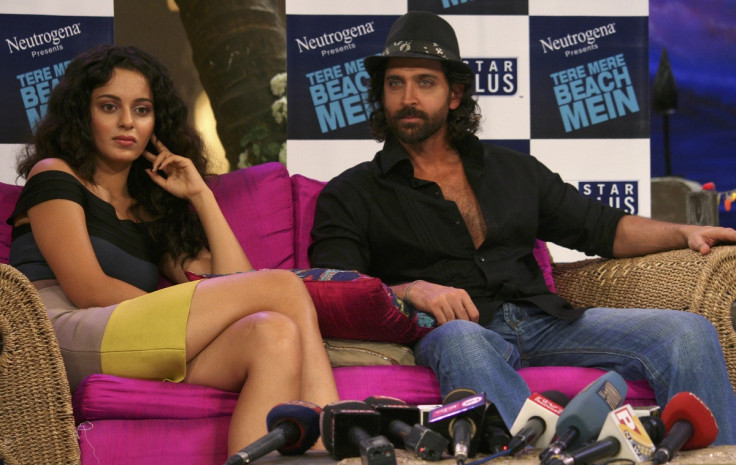 Hrithik Roshan and Kangana Ranaut were reportedly engaged in January 2014 just a month after the actor and his wife Sussanne had made their decision to split public. However, they are now embroiled in a bitter feud that started when the Queen actress said Roshan was a "silly ex" and the Bang Bang actor responded by saying she was stalking him online.
A close friend of Ranaut apparently told The Mumbai Mirror that "In December 2013, however, a call from Hrithik took her by surprise. He told her that he was divorcing Sussanne. Kangana was in Switzerland at that time and Hrithik in the US."
"She was on top of the world as he also told her he wanted to marry her after the divorce. But doubts cropped up in her mind. She didn't know whether Hrithik was serious or not. She kept saying that maybe he wanted to be with her on the rebound," the source said.
"In the first week of February, soon after he resumed shooting for Bang Bang, Hrithik stopped communicating with her. Kangana took off for a vacation in New York where she heard rumours about his growing closeness to his Bang Bang co-star Katrina Kaif," the source said.
"On February 14, she confronted him about the rumours when Hrithik called her and asked him to be honest with her. He only wanted to know if anyone was aware of the engagement. When Kangana told him that she had informed her family about it, he said that she had misunderstood his intentions," the source said.
Both the celebrities have approached the courts with the actress claiming that while Roshan was going through his divorce, he had personally given her his secret email address so he could communicate with her. However, the actor has denied the allegations. He said that he gave Ranaut his regular email address at a party, after which the actress started sending him a barrage of emails — 1,439 to be precise.
"Mr. Hrithik's statements made to the media are nothing but efforts to gain public sympathy. He cannot wash his hands off the matter now after having criminally threatened my client and having intimidated her, without any provocation. He also cannot deny the fact that my client never named him anywhere and it was he himself who claimed to be "Silly Ex" in his notice," Ranaut's lawyer said in a statement, according to The Hindustan Times.
"Besides his own acts of stating in the media that he would rather 'date a Pope' gave enough fodder to the media to start speculating. How can he blame my client for all his own acts of commissions and omissions?" the statement said.