Months of intense fighting have hollowed out the Syrian border town of Kobani. Wrecked vehicles sit beside buildings reduced to piles of rubble, and the roads are scarred by craters metres deep.
Sheets meant to hide residents from snipers' sights still hang over streets littered with the bodies of alleged Islamic State (Isis) fighters.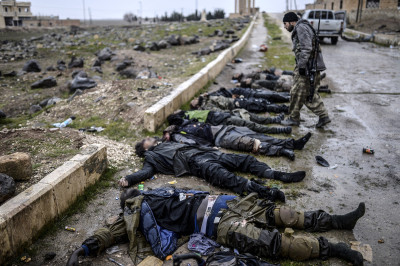 Tired and tense Kurdish fighters patrol near-deserted streets, and the risk of unexploded shells leaves the few civilians who remain fearful of where to tread.
Kurdish forces said this week they had taken full control of Kobani. Their victory, raising Kurdish flags where the black symbols of Islamic State once flew, prompted celebration among the more than 200,000 refugees who have fled to Turkey since the assault on the town began in September.
Many are eager to return home and try to rebuild their livelihoods, but there is little left of the town for them to return to.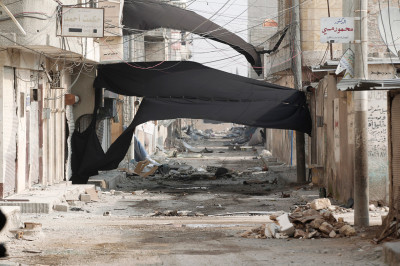 Kobani, nestled in hills and separated from Turkey by little more than a disused railway line, became a focal point for the international struggle against Islamic State, partly because of the heavy weaponry and number of fighters that the ultra-hardline Islamist group poured into the battle.
With the help of daily air strikes by US-led forces, air drops of weapons and ammunition, and fighters from the Kurdish autonomous region in Iraq, Kobani's defenders managed to push out the insurgents and declare a tentative victory on Monday (26 January).
Kurdish YPG fighters raised two fingers in victory signs for journalists being escorted around Kobani, but a tense mood still hung over the town.
"Mortar shells keep landing here. Don't wander around, it's dangerous," cautioned one of the fighters, guarding a central square, as a group of his fellow combatants patrolled surrounding streets on motorbikes.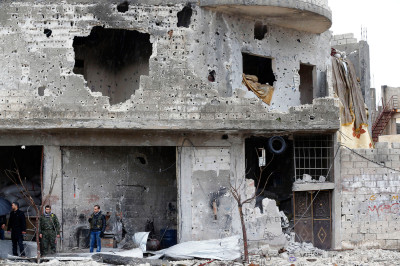 Islamic State supporters have denied the group has been pushed out. Battles have continued in villages to the southeast and southwest of Kobani. A senior US State Department official said it was too soon to declare "mission accomplished".
Turkey's Radikal newspaper said a mortar shell fired by IS militants landed near the Turkish border inside Kobani on Thursday, wounding four civilians.
Turkish President Tayyip Erdogan, who has been wary of supporting Syrian Kurds amid concern about a push for Kurdish autonomy in northern Syria, questioned this week how much there was to celebrate.
"Who will repair all those places you bombed? Will those 200,000 who fled Kobani be able to go back? When they are back, where will they live?" he asked.