Just four months after it was made available for download, Apple's latest operating system iOS 9 is now installed on 75% of active iOS devices as of 11 January, according to data posted on Apple's App Store support page for developers. This means that every 3 out of 4 iPhone, iPad, iPad mini and iPod touch users on the globe have been able to update themselves to the OS.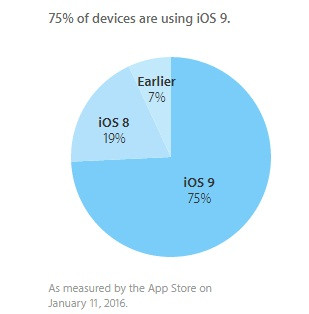 The chart provided on the developer's site also shows the considerable decline in iOS 8 and earlier iOS installations. Only 19% of iOS users continue to use iOS 8, while 7% still use a version older than that.
The latest adoption figures outpace that of iOS 8 which only managed a 68% distribution rate at the same time last year. It also took iOS 8 almost six months to reach 77%, a figure similar to what iOS 9 has reached now.
While Apple does not provide numbers on OS updates that its users have installed, third-party app analytics company Mixpanel estimates show that more than 66% of iOS users are using the latest stable release, iOS 9.2, which came out only last month.
Traditionally, updating the OS for iOS devices has been a challenge for the sheer volume it took up affecting the storage on the phone. With iOS 9, however, Apple focused on making it much smaller and easier to install for users with lower-capacity devices and ensure compatibility with earlier devices even as old as the 2011 iPhone 4S. Nevertheless, there have been many complaints of the iOS 9 slowing down phones after the update.
The next major update to iOS 9 comes in the form of iOS 9.3 the beta version of which Apple has begun seeding to developers. Its major highlights are CarPlay, Night Shift mode and new Health features.