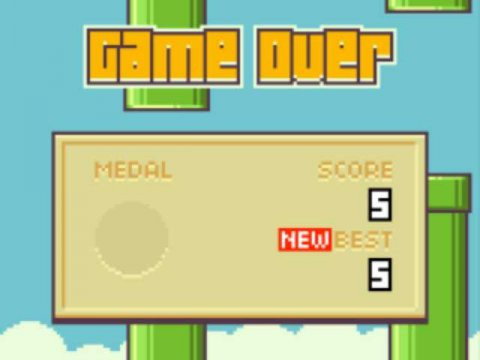 The world has clearly gone a bit mad.
First an infuriatingly-hard-yet-incredibly-simple smartphone game charged to the top of the app charts with over 50 million downloads, earning its Vietnamese creator Dong Nguyen a reported £30,000-a-month in ad revenue.
Then the developer claimed all the attention his game got ruined his simple life and so he removed the game from all online app stores.
This was followed by angry tweets and messages including some death threats.
And now, thousands of phones which already had the game installed have been put on sale on eBay with one receiving bids of up to $90,000 (£55,000).
Gripped the internet
The Flappy Bird craze has gripped the internet for the last week, and looks set to continue as people seek to take advantage of the mystifyingly popular game.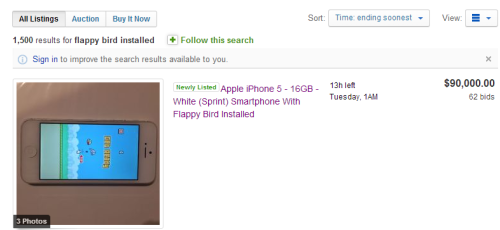 Since Nguyen announced he was planning on removing his game from Apple's App Store and Google's Play store, more than 1,500 people have put on sale on eBay, phones and tablets with Flappy Bird installed on them.
One 16GB iPhone 5, which had a retail price of £529 when new, has received a bid of $90,000 but it is unlikely that even the most ardent of Flappy Bird fan will actually follow through with payment on this bid.
One iPhone 4 (which is almost four years old remember) can be bought for $1,000 with the "rare" Flappy Birds game installed – though how something which has been downloaded more than 50 million times can be "rare" is a mystery.
Copycat
Putting aside questions about why anyone would want to pay more for an iPhone with Flappy Bird on it, there are already a number of copycat games available in both Apple's App Store and Google's Play Store, as well as a fake version of Flappy Birds in the Windows Phone Store.
The aim of the game is as simple as the graphics are basic - to fly a yellow bird through a series of pipes. If the bird hits the ground or touches a pipe, it's game over.
Nguyen said over the weekend that he wouldn't be selling his game to anyone else, and why should he, as he will continue to earnt eh reported £30,000 from ad sales as long as the 50 million people who downloaded the game continue to play it.