Just weeks after she announced that she is set to become a first-time grandmother, Jade Jagger has revealed that she is six-months pregnant.
The 42-year-old jewellery designer, who is the daughter of legendary Rolling Stone rocker Mick Jagger, took to her Instagram page to confirm that she was expecting at the same time as her daughter Assisi.
She showed off her growing bump in a black vest top and matching shorts in an image captioned: "Happy to announce this granny is going to become a mummy I'm 6 months pregnant xx double whammy this year."
The baby will be her first child with Adrian Fillary, the DJ she married at a country mansion in Oxfordshire in 2012. The intimate ceremony was attended by her famous father and mother Bianca.
Along with Assisi, Jagger is also mum to daughter Amba from her relationship with Piers Jackson.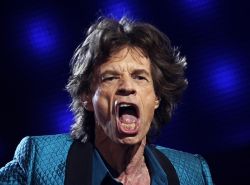 In 2013, 21-year-old Assisi revealed that she was expecting her first child with her chef boyfriend Alex Key after three years of dating.
"The women in our family just tend to have children young, it runs in the genes," Assisi told HELLO! magazine at the time.
"I grew up quite quickly and wouldn't have considered having a child if I was doing what my friends are doing at this stage, messing around," she added. "I don't drink, I don't smoke and I'm very settled."
And it seems that Mick, who has seven children and four grandchildren, can't wait to become a great-grandfather.
"I imagine it's nice to be a great-granddad- although I'm not sure he likes the idea of getting old, or being called one," Assisi added.