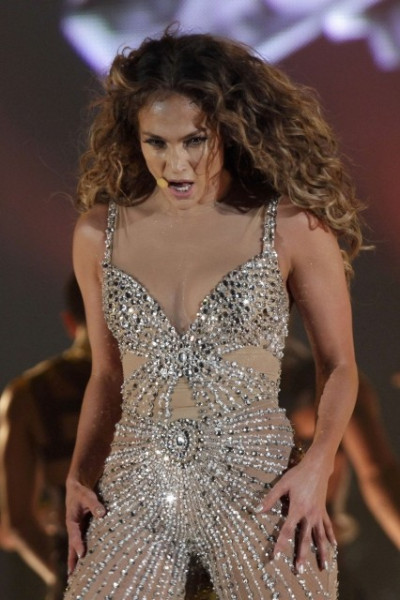 Jennifer Lopez kick started her Dance Again World Tour with a rocking concert at the Figali Convention Center in Panama City on Thursday. The American singer and actress threw herself at the audience in Panama City, which is the first stop of her Dance Again World Tour.
The Dance Again song, in which Lopez sings about wanting to love and dance, was released on 2 April this year and features Cuban-American rapper Pitbull.
A fan who attended the Dance Again Concert in Panama tweeted at @JLo, the official Twitter account of Jennifer Lopez, calling the concert a "killing" performance.
"killed it tonight. Great first show!! She is a true inspiration! Love her," Tiana Rios, @Trios22, wrote.
As part of the world tour, the 42 year old pop singer will perform Dance Again solos throughout June and on 1 July, in Venezuela, Chile, and Argentina and multiple cities in Brazil.
For the rest of the Dance Again World Tour, Enrique Iglesias & Wisin Y Yandel will join Lopez's Dance Again concerts at Montreal, Toronto, Newark, Boston, Washington DC, Atlanta City, Chicago, San Jose, Anaheim, Los Angeles, Las Vegas, San Antonio, Dallas, Houston, Atlanta and Miami, till 31 August (check for schedules and venue details here).
Jennifer Lopez also took to a charity act on the first day of her Dance Again World Tour in Panama City. She visited a children's hospital in the city to which Lopez Family Foundation has donated state-of-the-art digital diagnosis and video conferencing technology, in collaboration with Children's Hospital Los Angeles (CHLA). The foundation has also donated the equipment to six other health centers across Panama.
"Through the efforts of our foundation, we are able to offer medical and educational assistance for thousands of people who can be reached through our programs. In the future we might possibly be able to reach thousands of people all across the world. I am very excited about this opportunity. As we did in Puerto Rico, here in Panama we are improving the conditions of children and to offer medical educational resources to doctors and nurses who improve the lives of children," Jennifer Lopez said to the press at the hospital.
Start the slideshow to view photographs of Jennifer Lopez performing at Dance Again World Tour in Panama City. You can listen to the hit pop number Dance Again below...
Check out below a YouTube video of Jennifer Lopez visiting the hospital in Panama City.