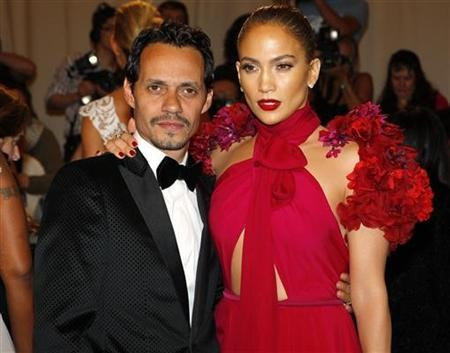 High-profile musical couple Jennifer Lopez and Marc Anthony are reuniting!
Let's not get too excited though... the couple are only doing so for their talent show - "¡Q'Viva! The Chosen" - which premiered on Spanish language network Univision, in the U.S., on Saturday.
"¡Q'Viva! The Chosen" transports the judges (Lopez and Anthony) and the audience to Latin America, where they will hunt for talented entertainers. The show's director, Jamie King, will join the former couple on the judging panel.
The show began filming in July, which, appropriately dramatically, was the month Lopez and Anthony announced their split, following a marriage that lasted seven years.
As part of the show, Lopez selected a group of capoeira dancers from Brazil, while her former flame chose a flashy and acrobatic dance troupe from Colombia, singers from Puerto Rico, a brother-sister team of quebradita dancers from Mexico City and a fire-juggler from Guatemala. Lopez also picked a group of malambo dancers from Argentina.
"I'm very impressed with this group," she said, of the gaucho-style of tap dancing that is usually only performed by men and dates back to 1600.
Meanwhile, a People magazine report quoted her as saying "this will show the world what Latin music is, what Latin rhythm is, what Latin passion is."
Interestingly, despite their split, Lopez and Anthony seem to be getting along rather well together and were often spotted together during the filming of the show. According to TMZ, sources very close to the former couple said that for months before their break-up there was virtual radio silence between the two.
"We're told when they did talk, it was loud and contentious ... often ending in tears on Jennifer's part," the sources told TMZ.
Are the two then heading back together? Were those moments of "radio silence" simply a healing period?
Only time will tell... in the meantime, check out this video of "¡Q'Viva! The Chosen"...