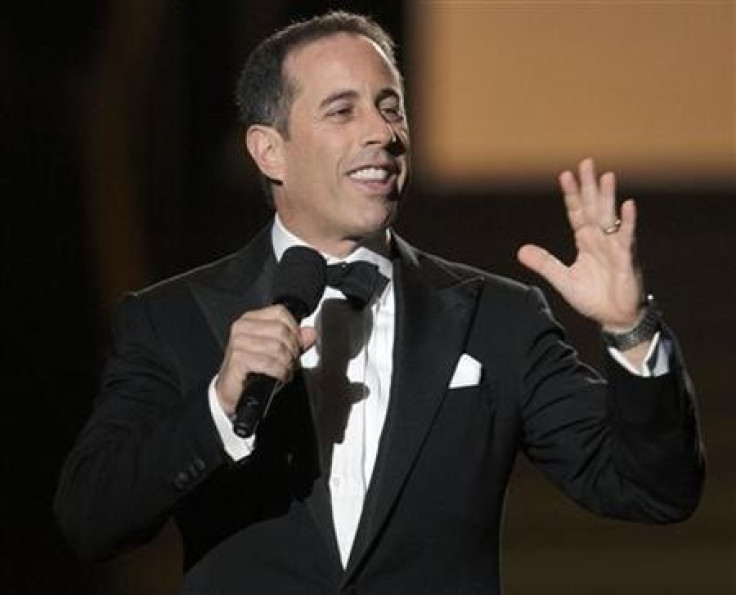 Jerry Seinfeld has revealed why he did not attend the 69th annual Emmy Awards at the Microsoft Theater in Los Angeles, California, on 7 September. The veteran comedian has said that he skipped the award show that night because he was busy doing what he loves best: comedy.
Speaking to Extra TV, the 63-year-old actor said that on the night of the big award event he was performing comedy at a comedy club.
"No, I was out at a comedy club doing comedy," he said.
Seinfeld explained why he would not host a big award show like the Emmys or the Oscars.
"No, I don't think those are real jobs," he said.
Seinfeld, who has been shooting his special at places such The Comic Strip and the New York club, where it all started for him in the 70s, opened up about why he decided to go back to his old stomping grounds.
"I thought it would be nice for young comedians to know, 'Where did all this start?' I think of all my favourite comedians I would love if they had made a special about the very beginning of how they started it," he said.
Seinfeld also talked about meeting one of his idols, comedy legend Jerry Lewis. He said he had the opportunity to shoot a very special episode of Comedians in Cars Getting Coffee with Lewis before he died on 20 August, 2017.
"He was great. I think it was his last interview... I watched him when I was a little kid. And his name was Jerry. And I thought... 'Maybe I could be like that 'cause I'm Jerry, too'," he said.
Seinfeld might be a big name on the comedy scene but when he started out his "dream was to be an opening act for Tina Turner". And at one point, he had even thought that making enough money to buy a loaf of bread every week would be good enough.
"I thought: A loaf of bread a week, I could make it," he said.
But, after attaining stardom and being recognised as one of the highest-paid comedians, he jokingly said, "I have them make my own bread."