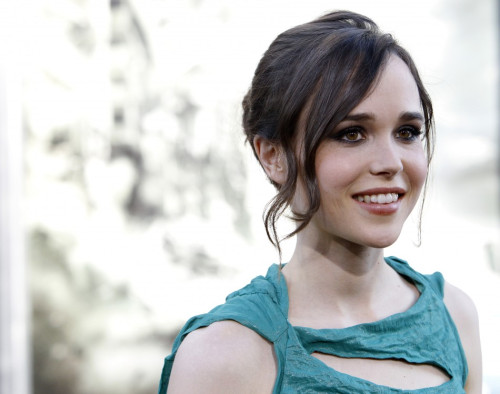 Canadian actress Ellen Page has announced that she is gay.
The 26-year-old Juno actress talked about her sexual orientation at the Human Rights Campaign's Time To THRIVE conference for LGBTQ (Lesbian, Gay, Bisexual, Transgender, Questioning) youth in Las Vegas.
"I'm here today because I am gay," Page told the crowd. "And because maybe I can make a difference. To help others have an easier and more hopeful time. Regardless, for me, I feel a personal obligation and a social responsibility."
She also mentioned in her speech other celebrities such as football player Michael Sam, Orange Is the New Black star Laverne Cox and lesbian identical twin musicians Tegan and Sara Quinn who showed the courage to come out and reveal their sexuality.
Celebrities took to Twitter to support the actress.
Shannon Woodward: "I have never been more proud of a human than I am of @EllenPage right now."
Jesse Tyler Ferguson: "Love love LOVE @EllenPage & the message she sent out today! What a perfect way to end Valentines Day!"
Anna Kendrick: "Mad mad mad mad mad mad crazy love and praise for @EllenPage today. Congrats to you, you light, talent, and beauty."
Lance Bass: "We love you @ellenpage !! ❤️❤️❤️ #HRC #TimeToThrive."
Christina Perri: "I thought i couldn't love @ellenpage more… i do. so inspiring and beautifully spoken."
Kristen Bell: "Rivited by @EllenPage's fabulous speech. So honest & funny & articulate. She Shines. Happy Valentines day to ALL."
Kate Mara: "Hey @EllenPage…Be my Valentine? #respect"
Nikki Reed: "I second that! "@AnnaKendrick47: Mad mad mad crazy love and praise for @EllenPage today. Congrats to you, you light, talent, and beauty."
Emile Hirsch: "Props to @EllenPage for helping so many people through their daily struggles by courageously leading by example and coming out on V Day!"
Mary E Winstead: "So amazing. RT @somebadideas: Moving speech by @ellenpage on coming out."
Jason Collins: "Wishing all the love and support in the world to @EllenPage. Thank you for sharing your story with us. #comingout #timetoTHRIVE @HRC."