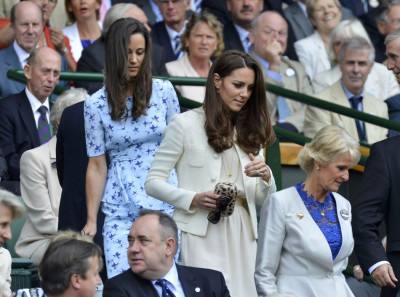 The Middleton girls stole the show at the Wimbledon 2012 men's final. Kate Middleton, in a Joseph jacket, was accompanied by her sister Pippa Middleton to watch Andy Murray play against Roger Federer in the final game.
The Duchess of Cambridge, known for her recycling of dresses, wore a Joseph's white sheath that has been previously worn by her on the Royal tour in 2011. The sheath had a matching Joseph jacket that was seen at the Epsom Derby last year. Kate had a Diane von Furstenberg leopard print clutch along with her. She also wore the Kiki McDonough citrine drop earrings that had been worn by the Duchess before on various occasions. Sister Pippa wore a Project D white and blue print peplum dress.
The surprise fashion element of the day worn by the Duchess was the sunglasses, as Kate is hardly seen wearing shades. Grazia Daily UK feels that the sunglasses belong to Pippa as she was seen wearing a similar number last week. As they are still swapping accessories and dresses, the Middleton sisters must be really close.
This is Kate's second appearance at Wimbledon. She was spotted with Prince William at the tournament last week, wearing an Alexander McQueen nautical-inspired dress.
Prince William was occupied with some work in Wales that made it a girls' day out for the Middleton sisters at Wimbledon.
A host of celebrities including David and Victoria Beckham, attended the final match. Beckham wore a dark suit with a crisp white shirt while Victoria wore a dark green dress pulled from her Fall 2012 collection. Victoria had her hair pulled back along with one of her classic oversized shades. Not to forget, the much hyped scowl that is the signature tone of the fashion designer was also there, according to the Huffington Post.
Check out the pictures of Kate Middleton and Pippa Middleton at the Wimbledon 2012 men's final: