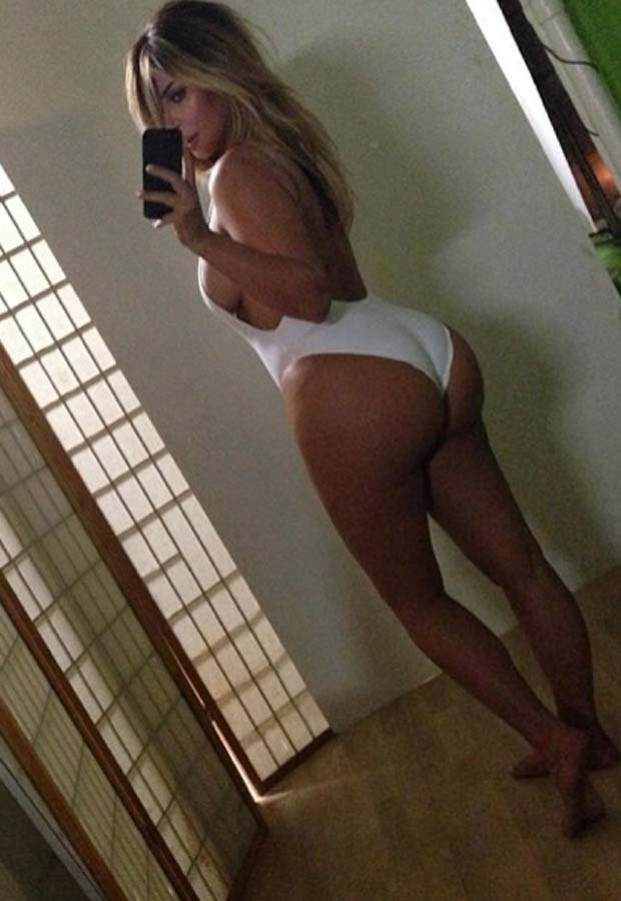 American reality television star Kim Kardashian who gave birth to daughter North West just four months ago, posted a racy snapshot of herself on Instagram.
The 32-year-old showed off her post-baby body in a revealing white bathing suit, and captioned "#NoFilter."
Her rapper boyfriend Kanye West retweeted Kardashian's picture and wrote, "HEADING HOME NOW."
However, she received backlash from Twitter users who felt the latest picture was inappropriate for a new mother.
King Wall: "Kim Kardashian is a mom she can't be posting pictures like that anymore smh"
Scott Reeves: "So @KimKardashian posted this selfie on her Instagram. Is her booty real or does she have butt implants?"
Quennie Barrameda: "Someone please create a "Butt of Fame," and put Kim Kardashian there.""
Meanwhile, she had previously revealed that Atkins diet is the secret to her post baby body.
"I've actually been doing the Atkins diet & luv it," she tweeted to a fan.
"Kim Kardashian wanted a balanced and effective way to lose weight following her pregnancy and she chose Atkins," Colette Heimowitz, Vice President of Nutrition for Atkins Nutritionals, Inc., told ABC News, "She ate lots of lean proteins, veggies, fruits, and healthy fats like avocado and nuts. She experienced previous success on the plan, and knew she needed something that works."
In other news, Kardashian is already talking about having more children with West.
"She's told friends she wants to have another baby soon, within a year. Kim's a planner and she's always had a timeline in her head. Even before Kanye came into the picture, she wanted kids while she's young," another source told Life & Style magazine.