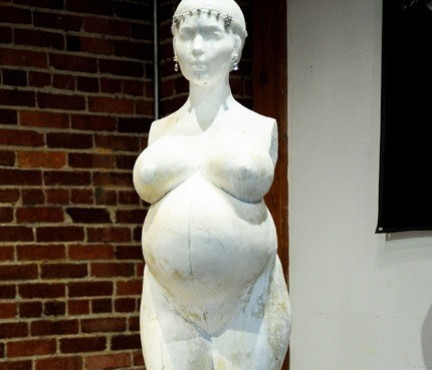 Her pregnancy has been a topic of scrutiny over the last few months and may even be immortalised in stone.
The reality star's nude pregnant figure has been cast by celebrity sculptor Daniel Edwards in a life-size statue said to symbolise good luck.
"I'm stripping it of the details people get stuck on," said Edwards. "So they can see the beauty."
The white sculpture, unveiled at the Lab Art Gallery in Los Angeles, shows the 32-year-old,who is expecting her first child with rapper Kanye West in July, is of a naked pregnant torso.
Visitors are being encouraged to rub the belly of the pregnant statue, which is part of the LA Fertility collection, for good luck.
According to Edwards, his work was a response to the criticism of the Keeping up with the Kardashians star.
"I was inspired by the beauty of Kim Kardashian and felt quite put off by the media's criticism of her weight gain during pregnancy," Edwards said. "Such criticism should be off-limits.
"People tend to look at the parts, like the creases in her armpits, or how she wore a dress that makes her look like a killer whale," he added.
Kardasdian joins Scarlett Johansson, Angelina Jolie and Paris Hilton who have also been immortalised by Edwards.
His controversial celebrity-inspired artwork include a 2006 life-sized nude of Britney Spears giving birth to son Sean Preston, a statue of Angelina Jolie breast-feeding, and "hands-on" work called "Paris Hilton Autopsy."