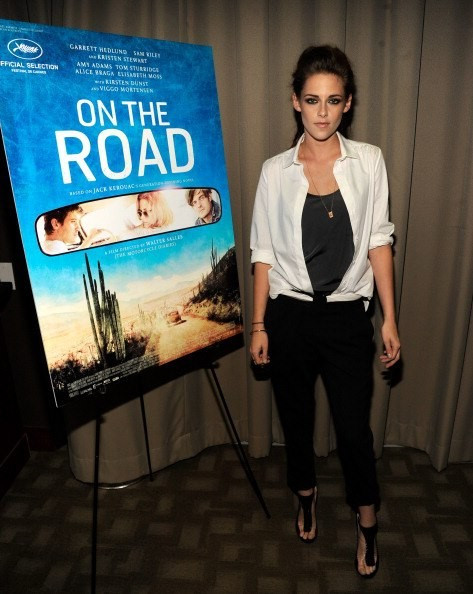 Actress Kristen Stewart looked gorgeous as she turned up at the screening of her upcoming film On The Road held at Disney Park Avenue in New York City.
The 22-year-old looked visibly fresh and stunning from her first public appearance at the 2012 Toronto International Film Festival, since she was caught cheating on Robert Pattinson, her long-time boyfriend and co-star in the Twilight series of films. Stewart was photographed getting intimate with the British director of her film Snow White and the Huntsman.
For the promotional event, Stewart opted for black ALC pants, Jimmy Choo heels with a white Balenciaga button-up, going for smoky eyes and heavy eyeliner completing the look. She was joined by co-star Garrett Hedlund and the two posed for photos together and with director Walter Salles.
Stewart, who was joined by Kirsten Dunst to promote the film at the Toronto International Film Festival, spoke to Hollywood Reporter about acting skills.
"My biggest thing about acting is that you're not pretending to be someone else; you're just finding yourself," Kristen said. "What I knew when I was younger was that I wanted to know that I was going to be really challenged, and I am."
Stewart plays MaryLou, a character based on the young wife of Neal Cassady, in the film adaptation of Jack Kerouac's cult classic novel On the Road.
Cassady was a member of the beat generation, a group of youth in the 1950s who rejected conventional society and inclined to Zen Buddhism, modern jazz, free sexuality, and recreational drugs. Stewart says she feels a strong connection with that era.
Stewart Claims the Pair is 'Totally Fine' Even after Cheating Scandal
During a press conference when asked if they would work together for the promotion of their film, Twilight Saga: Breaking Dawn Part II, the actress confirmed the two have a professional understanding.
"We're going to be fine," she said while attending the Toronto Film Festival, "We're totally fine. I was a little nervous, obviously. I'm always nervous before a red carpet. "To be honest, I was just kind of telling myself, like, just don't back out. Be there, don't just figuratively put your head down and barrel through it. Be there, appreciate it," she said. "Luckily, very, very much I was able to do that."