8.00pm: Thanks for joining us and make sure to check out www.ibtimes.co.uk/technology for all our coverage from WWDC. Good night.
7.59pm: And two hours later that's it from Apple.
7.58pm: "This is only something Apple could do."
7.56pm: Tim Cook back on stage to wrap up. Talking about who iOS and Mac OS X now work in harmony...
7.51pm: Apple now showing off how easy it is to code with Swift...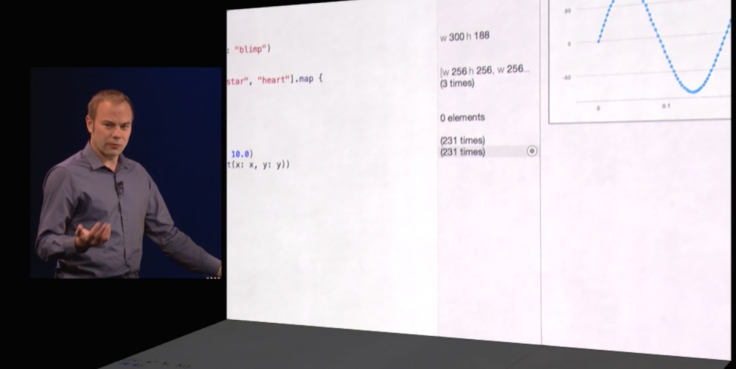 7.50pm:
7.50pm: SWIFT - A new programming language called Swift will replace Objective C. This is HUGE....if you are a developer. As a user, not so much...
7.40pm: HOMEKIT: Apple's first push into home automation. Not many details given but it will essentially create a platform for third-party device manufacturers as well as integrating Siri.
7.35pm: TOUCH ID: Developers will now be able to use the Touch ID fingerprint sensor within their apps where previously it was only used for unlocking your iPhone and confirming payments in iTunes.
7.34pm: KEYBOARDS. Apple will for the first time allow third-party keyboards, such as Swype to be installed on your iPhone and iPad.
7.30pm: WIDGETS. iOS 8 will allow for widgets in the Notification Center widgets from third party apps, now just Apple's core apps
7.25pm: Craig Federighi back on stage again to talk about the 4000 APIs coming in the iOS 8 SDK.
7.24pm: App bundles and App Previews (videos) now available in the App Store. There's also a beta feature called TestFlight which will allow developers to give customers the chance to try apps for free.
7.23pm: Cook back on stage with some App Store numbers. 300 million visitors to the store every day, more than 75 billion apps downloaded with 1.2 million apps available....big numbers
7.21pm: Federighi now showing off a new version of Photos for Mac designed from the ground up with iCloud in mind. Not shipping until early 2015 however.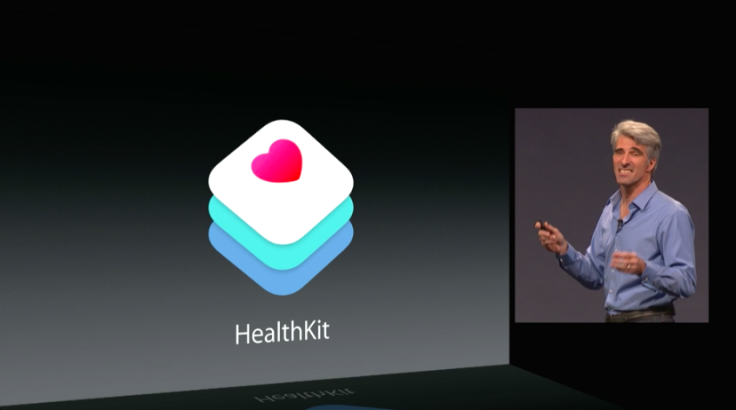 7.20pm: Seems like the creator of WhatsApp believes Apple's new Messages updates are a bit of a rip off:
7.18pm: Federighi now showing off new photo editing mode,
7.16pm: Apple's update to its photo app, allows you to see all your photos all the time. No more 1000 photo limit on Photo Stream it seems
7.14pm: Family sharing allows you to share purcashes with up to siz family members who share the same credit card, with children promted to ask permission before they make a purchase.
7.12pm: Apple's HealthKit feature will collate data from other apps in a single app, called Health, which will work with third-party apps from the like of Nike, Fitbit and the Mayo Clinic.
7.10pm: Here we go with the new HealthKit feature and the Health app
7.08pm: Now talking about the Enterprise, saying iOS is used by 98% of Fortune 500 - and Federighi says Apple will get that last 2%...
7.06pm: iCloud Drive makes it from Mac OS X Yosemite to iOS 8.
7.04pm: Now being demonstrated is Tap to Talk within messages within Messages, which allows you send a voice message with just a tap of a button. Voice and video messages within Messages will self-destruct unless you say to keep them. A way of saving space.
6.58pm: Next to be introduced is Quicktype that allows users to type things out "faster than ever before". It learns from the user's interactions with different users by remembering keystrokes that it is assured will never leave the device and compromise someone's privacy.

6.55pm: Interactive notifications means users can 'like', 'share' and 'delete' posts without having to go into particular apps like Facebook.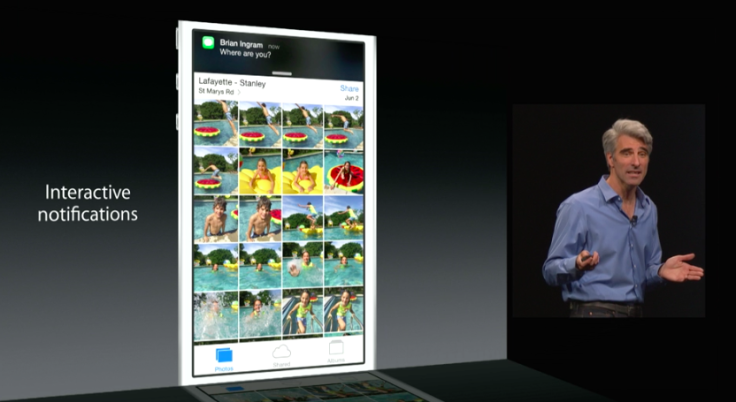 6.52pm: iOS 8 has been officially announced, with the first feature shown off a swiping sidebar similar to that of Yosemite.

6.50pm: Comparing the adoption rates of the latest operating systems by iOS and Android users:

6.48pm: Tim Cook jokes that Apple has received 130 million new iPhone customers in the past year after "buying an Android device by mistake". Meanwhile, he boasts that over half a billion iPhones have been sold to date.

6.45pm: Yosemite will be available from autumn for free. Now back to Tim Cook.

6.42pm: And to demonstrate the phonecall feature, the call is to none other than Apple's latest employee: Dr Dre! Apparently he's got to be in for employee orientation at 9am...

6.40pm: The demo shows how useful such a feature can be by allowing users to send embarrassing karaoke photos through a Mac via SMS.

6.35pm: SMS AND phonecalls can now be sent and made through your Mac now, with the iPhone sending messages and phonecalls to other devices. We've got a demo of how this "continuity" works.

6.32pm: Markup is demonstrated, one of Safari's new features that allows you to type in captions to images and send them seamlessly through mail: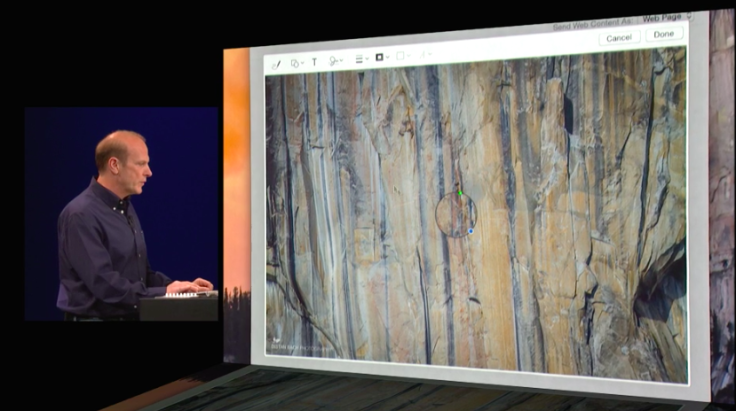 6.28pm: Next up is the announcement of a "better than ever" Safari, which replaces the favourites bar with a single unified bar and includes spotlight suggestions to allow you to check on docs while your web searching.

6.26pm: Maildrop is introduced, which allows large files up to 5GB through iCloud.

6.24pm: Screenshots of Yosemite: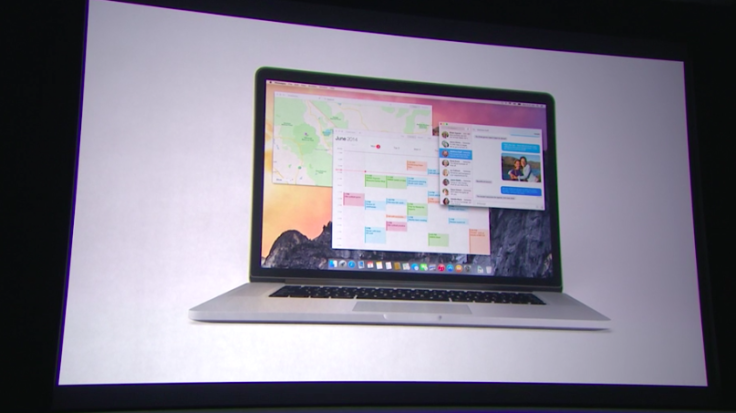 Apologies - problems with our liveblog have meant we've lost 20 minutes of our feed.

6.01pm: HERE WE GO...
5.57pm: As Ina Fried from Re/Code rightly points out, the lack of the Apple Store being taken offline indicates there is going to be now new hardware announced today. Boo.
5.56pm: Attendees have just been given the five minute warning to turn all electronic devices to silent....you don't want your mum calling just as Tim Cook is unveiling the iWatch after all...
5.55pm: The live stream is up and running and we can see the crowds packed into the auditorium in the Moscone Center: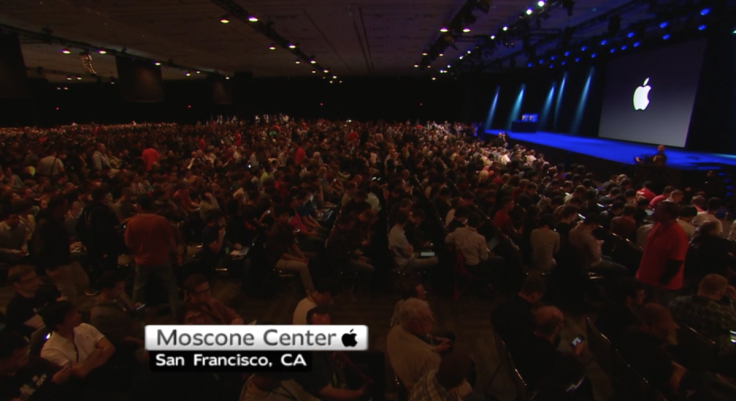 5.50pm: Just 10 minutes to go until we find out what Apple has in store for us this year in terms of iOS, Mac OS X and potentially much more...
5.38pm: While some people are clearly happy to get to take a selfie with Tim Cook the woman in the right of this picture clearly isn't.....Also, black is the new black...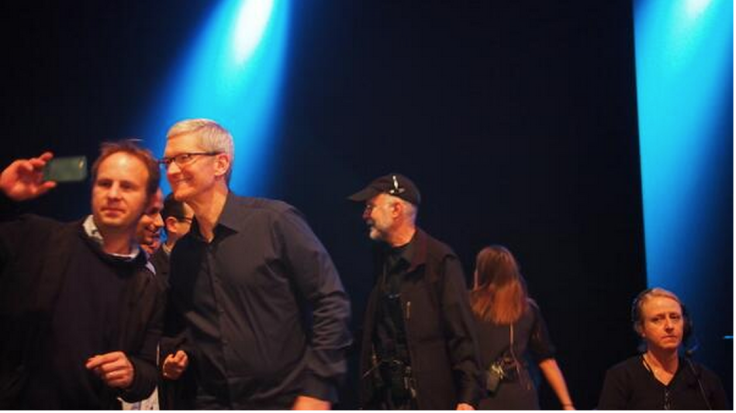 5.32pm: With less than half an hour to go until showtime, Apple CEO Tim Cook has been spotted heading backstage: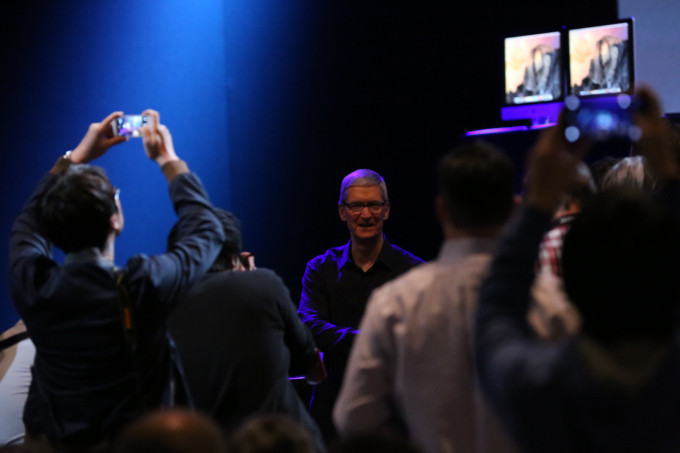 5.25pm: If the leaked photos are anything to go by, we could expect a Control Centre borrowed from iOS 7 that slides out from the left of the screen and a Notification Centre that slides out from the right.
5.23pm: And here's a blurry photo posted by a Reddit user earlier today, claiming to show what OS X 10.10 will look like: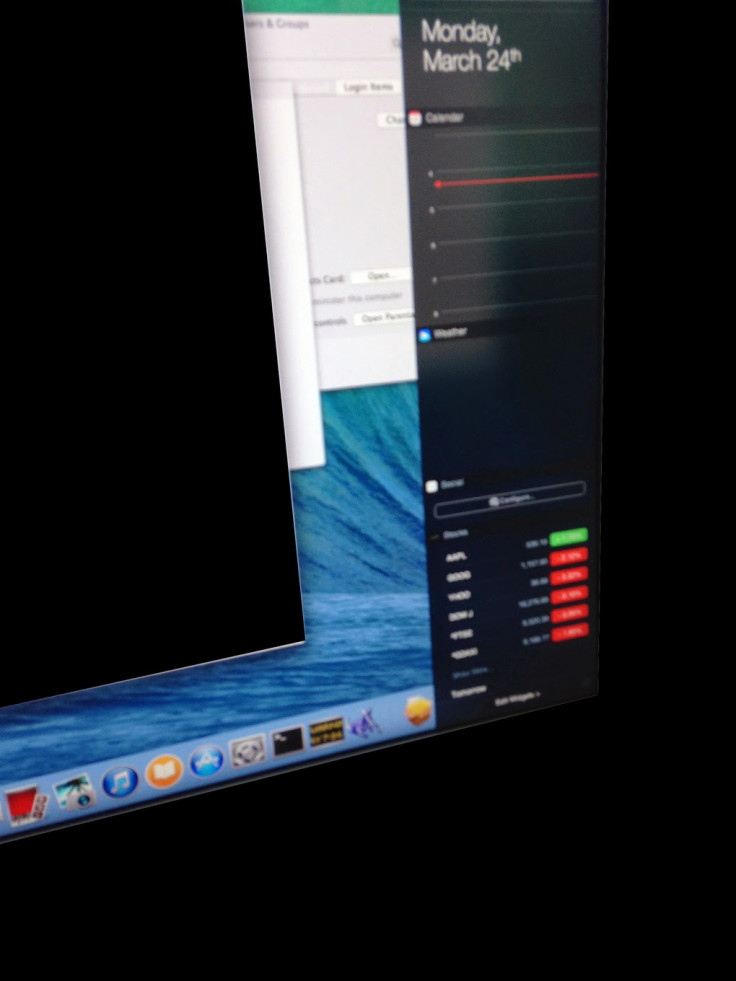 5.18pm: First look at a couple of iMacs running Mac OS X 10.10 (aka Yosemite)
5.15pm: Spotted so far in the crowd for WWDC keynote. Apple execs Craig Federighi and Phil Schiller as well as the new head of retail Angela Ahrendts and head of operations Jeff Williams....no sign of Dre yet.
5.10pm: And the doors are finally open, as VIPs and media file into the auditorium to take their seats...
4.55pm: WWDC is also the chance for the select few recipients of a WWDC Student Scholarship to get hands-on coaching from Apple engineers:
"After building software for Apple platforms for over five years, it feels incredible to be officially recognised by Apple for the first time," said first-time WWDC scholarship winner Indragie Karunaratne. "I'm happy beyond words that Apple finds my work worthy of their recognition and that they appreciate the time and dedication I've put into it."

4.08pm: Looking at iOS 8, Apple is set to build on the major redesign it began with iOS 7, but it looks like the big focus this year will be the addition of a new app called Healthbook which will collate data from a range of sources (Jawbone Up, Nike Fuelband etc) in one place.....as well of course as tying into Apple's up-coming iWatch.
3.55pm: We could be getting ready to hear more about CarPlay, Apple's iOS-like interface which certain car manufacturers are building into their cars - including Ferrari - with Apple displaying a Ferrari and some other cars at the Moscone Center according to 9to5Mac.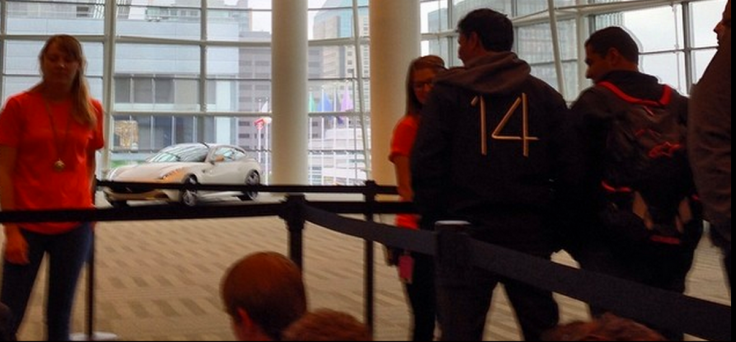 3.50pm: Clearly some people have absolutely no commitment:
3.38pm: For those of you not in San Francisco and wondering if you can get to see Apple's announcement for yourself, then the answer is yes. Here are three ways to see it:
iPhone/iPad: Watch the live stream here on Safari and make sure you have iOS 4.2 or later
Apple TV: Fire up your Apple TV and you will see Apple has added a special new channel just for the event
Laptop/Dekstop: You will need Safari 4 or later running on OS X 10.6 or later if you are using a Mac, while on Windows you will need the latest versions of Safari and Quicktime.
...or you could stay right here with me and enjoy my witty repartee and searingly insightful analysis. Your choice.
3.27pm: Back to home automation for a minute, CEO of analysis firm Context, Jeremy Davis is not very optimistic about seeming a "game changing announcement from Apple later today:
It's difficult to see what Apple could launch at the WWDC conference this year that could be classified as a game changer. iTunes changed the music industry, iPad gave us something we didn't know we needed and changed the PC industry, and iPhone was the end for Blackberry, Motorola and Nokia.

So, what's next? That "and one more thing" moment could be related to advances in the smart home area and the internet of things. Being able to connect your home appliances such as thermostats and locks and wirelessly control them with your phone could show major advances for Apple with the iPhone becoming the remote control of your life.
3.15pm: Please feel free to join in the conversation in the comment section below with whatever you hopes and dreams are for this evening - and if they have something to do with Apple's WWDC keynote all the better...
3.12pm: Just hours ahead of the WWDC 2014 keynote, leaked images of what claim to be from Mac OS X 10.10 (which is set to be called Yosemite) appeared online, showing a new Control Center similar to that seen on iOS 8, as well as a redesigned Notification Center.
The images were taken in March and hopefully Apple has done some work on OS X since, as the updates shown in the leaks are not very exciting.
3.05pm: Ahead of the keynote a lot of attention has been focused on the possibility that Apple is set to get into the home automation market with a new platform.
Ahead of a possible announcement today, Donald Stuart, CEO of Brainstorm, a global provider of mobile engagement solutions said an announcement could signal the next stage of Apple's on-going fight with Google:

Today we're expecting to see some interesting announcements around how the iPhone's functionality may be extended to incorporate the smart home. Google has also made inroads into the smart home with the Next Labs purchase, so it's beginning to look like this is the next key battleground the two companies will be fighting over.
2.57pm: WWDC is typically about the developers and therefore it is about software rather than hardware, meaning that Apple will focus on iOS 8 and Mac OS X 10.10 today, and not as a fake video purported over the weekend, the launch of the iPhone 6.
2.51pm: This is what the queue looks like at the moment:
2.50pm: Queues have been forming outside the Moscone centre since early this morning which in San Fran time was later on Sunday night, as people look to get to the front of the auditorium just to bask in Tim Cook's reflective glow all the better.
2.45pm: Hello everyone, we're now up and running with our live coverage of the keynote address at Apple's Worldwide Developer Conference (WWDC for short) which is due to kick off at 10am local time in San Francisco (6pm UK time).
We'll be updating this blog with comment, analysis and rumours ahead of Tim Cook's opening address, but for now, why not have a look at our in-depth preview of the event: