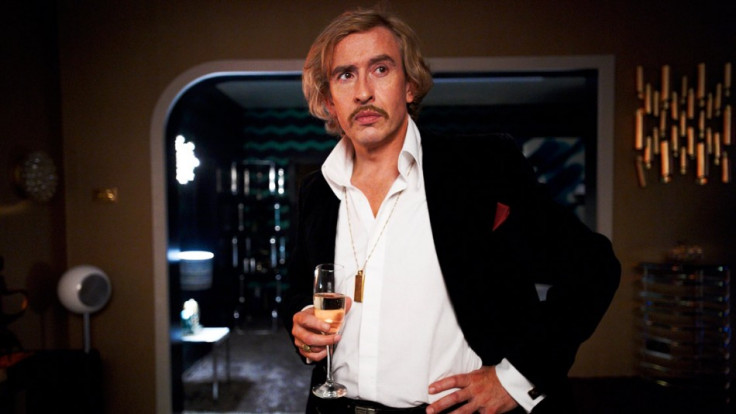 "Tell me about yourself warts and all ... skip the warts," says Paul Raymond to his mistress. A strip-club owner and soft porn magazine publisher, one-time richest man in Britain and self-styled 'King of Soho', he was a man who understood how to cultivate an image and the power of how you are seen.
Steve Coogan plays Raymond in Michael Winterbottom's The Look of Love, a stylised but shallow romp through 40 years of Soho that frantically yo-yos between the glitz and glamour of the entertainment industry and the dark and seedy heart beneath.
Charting down the decades a real-life maverick who managed to achieve great success by working outside the system, it's impossible to escape comparisons with previous Coogan/Winterbottom team-up 24 Hour Party People. The same self-aware postmodern touches are applied as the film moves from black and white to colour to highlight when television broadcasts did the same. Mock newsreel footage and knowing nods to the camera all serve to break the fourth wall and make the viewer readily aware of the stylised fiction we are witnessing.
The fiction being woven by Raymond is that as a working class boy from Liverpool he has managed to amass a vast fortune through understanding people's desires. We witness his career catapulted in the 1960s as cries for sexual liberation see London's audiences clamour to witness enticing female flesh. Through a captivating pop soundtrack featuring the likes of Donovan, Dionne Warwick and Soft Cell, Raymond parties his way through the decades as a freewheeling spirit who we are meant to sympathise with. But the supposedly harmless fun is framed by the opening tragedy of the death of Raymond's daughter Debbie. Set-up like Hollywood classic Sunset Boulevard, the film hurtles at full speed towards what we know will be an inevitably destructive and devastating conclusion.
Steve Coogan plays Raymond with the usual charm and charisma expected, giving the entrepreneur a commanding gravity which the women of his life orbit around. Full of the comedian's adroit one-liners, he also manages to smuggle in impressions of Sean Connery and Marlon Brando. But as the film goes on, and we see Coogan's Raymond repeat the same boasts and jokes again and again, the humour wanes and we are left with his tragically vacuous public persona. Despite achieving vast material success, like his comedy creations Alan Partridge and Tommy Saxondale Raymond is depicted as a tragic lost soul whose projected persona masks a deep insecurity.
Anna Friel, Tamsin Egerton and Chris Addison all shine around him as his wife, lover and cocaine-induced colleague respectively, but the brightest star is Imogen Poots as Raymond's deranged daughter. The 23-year-old gives an electric performance as Debbie, an unhinged and emotionally charged individual who as the only non-sexualised woman in Raymond's life struggles to find an identity. The drug-fuelled lifestyle she lives with her father give us scenes that are shockingly candid, such as one absurd moment in which Debbie asks Raymond for a line of cocaine to get past the pain of childbirth.
Like the glossy covers to the soft core porn magazines that Raymond publishes, for the most part we only see the superficial side of the wild and adulterous whirlwind Raymond enjoyed, with only rare stabbing moments of realism that undercut his endeavours as folly. Whilst exuding calm confidence around the various women in his life, a tense and awkward scene with his abandoned son highlights his inability to form a connection with others.
Whilst being interviewed he brags about having the Midas touch for "almost everything" and it soon becomes clear that for all his wealth he can't buy love. It's an obvious and uninspiring line to tread, the man who seemingly has it all actually has nothing. But to see his trials and travails in Soho, the dark beating heart of London that is rarely shown on screen, is a real delight. Though the journey the films follow is a shallow one we are overly familiar with, the ride with the King of Soho is still a blast.