Apple has just announced the availability of Mac OS X Mountain Lion in the Mac App Store, costing £13.99.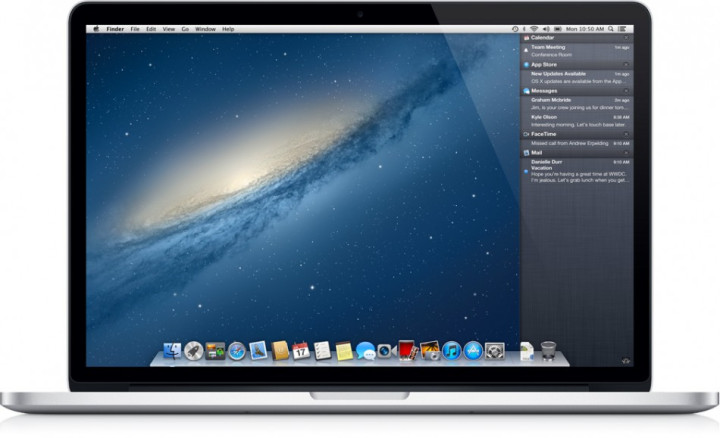 Only a couple of weeks ago, Apple released the final beta version, known as the Golden Master, of Mac OS X Mountain Lion signaling that the release to the public was imminent.
In a press release today, Apple said: "People are going to love the new features in Mountain Lion and how easy it is to download and install from the Mac App Store."
Philip Schiller, Apple's senior vice president of Worldwide Marketing added: "With iCloud integration, Mountain Lion is even easier to set up, and your important information stays up to date across all your devices so you can keep editing documents, taking notes, creating reminders, and continue conversations whether you started on a Mac, iPhone or iPad."
Announced in February and shown off at WWDC in June, Mountain Lion brings a host of new features to the Mac operating system and brings it closer than ever to its mobile cousin, iOS.
We've been looking at the beta version of the Mac OS X Mountain Lion since it was released in February and you can read our review here.
With iOS-inspired design for apps like Notes, Reminds and Game Center, Mountain Lion aims to unify the user experience on both the Mac and iOS operating systems.
Much as Snow Leopard was a sizable update to Leopard rather than a major new operating system, Mountain Lion is evolutionary, not revolutionary, giving Lion a fresh new suit instead of completely revamping the OS.
Apple claims Mountain Lion has over 200 new features, inclduing:
iCloud integration - to set up your Mail, Contacts, Calendar, Messages, Reminders and Notes, and keeping everything, including iWork documents, up to date across all your devices;
New Messages app - which replaces iChat and brings iMessage to the Mac, so you can send messages to anyone with an iPhone, iPad, iPod touch or another Mac;
Notification Center - which streamlines the presentation of notifications and provides access to alerts from Mail, Calendar, Messages, Reminders, system updates and third party apps;
System-wide Sharing - lets you share links, photos, videos and other files without having to switch to another app, and you just need to sign in once to use third-party services like Facebook, Twitter, Flickr and Vimeo;
Facebook integration - you can post photos, links and comments with locations right from your apps, automatically add your Facebook friends to your Contacts, and even update your Facebook status from within Notification Center; (however this feature will only come online later in the year)
Dictation - which allows you to dictate text anywhere you can type, whether you are using an app from Apple or a third party developer;
AirPlay Mirroring - wirelessly send an up-to-1080p stream of what is on your Mac to an HDTV using Apple TV, or send audio to a receiver or speakers that use AirPlay;
Game Center - which brings the social gaming network from iOS to the Mac so you can enjoy live, multiplayer games with friends whether they are on a Mac, iPhone, iPad or iPod touch.
OS X Mountain Lion is available only from the Mac App Store for £13.99. Mountain Lion requires Lion or Snow Leopard (OS X v10.6.8 or later), 2GB of memory and 8GB of available space. TO see if you Mac is compltible check out our full guide here