Madonna Wades into Kim Kardashian Bare Bottom Shoot Controversy
Madonna has waded into the controversy over Kim Kardashian's bare bottom shoot.
The reality TV star appeared naked on the cover of Paper Magazine, fully exposing her famed posterior. Posting the images on social media she pledged to 'Break the Internet.'
Posting a topless image of herself taken in the nineties, which was censored with a black bar covering her chest, the 56-year-old singer questioned the double standards.
"It's confusing. Nipples are considered forbidden and provocative but exposing your ass is not. #flummoxed (sic)."
The Material Girl singer has herself frequently posed nude for photo shoots and near naked in her often controversial videos and has been the focus of public criticism throughout her career.
Glee star Naya Rivera, who not unlike Kim Kardashian frequently poses in bikinis for her Instagram account, also condemned the new mother for her nude pictures.
'I normally don't. But...you're someone's mother...' she commented.
The 34-year-old was the focus of derision for the gratuitous images and was parodied on social media with a series of mocking memes.
Its confusing. Nipples are considered forbidden and provocative but exposing your ass is not. #flummoxed pic.twitter.com/0W1cTvSU10

— Madonna (@Madonna) November 20, 2014
Ellen DeGeneres and Portia de Rossi also poked fun at Kardashian replicating the pose for their Christmas cards pasting their heads on Kim's body.
Speaking on Australia's The Project on Channel Ten, the Playboy cover girl defended the images after she was criticised for being a bad role model for young people, who might be inclined to imitate her naked selfies.
"I was so honoured and excited to work with [photographer Jean-Paul Goude] because he is a legend, and for me that was something I wanted to do to make myself feel confident.
"As a role model I'm not saying anyone else should do that, but for me it was an art project and it taught me to do what you want to do. I love the photos, I did it for me, I hope other people like them."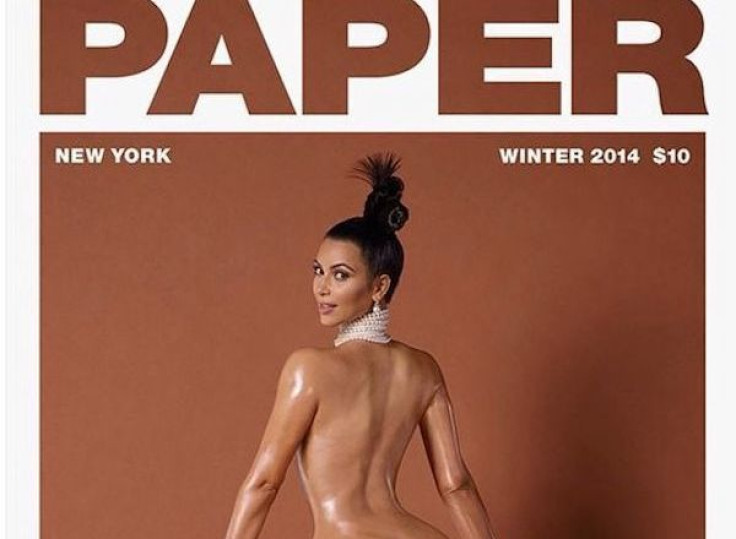 © Copyright IBTimes 2023. All rights reserved.