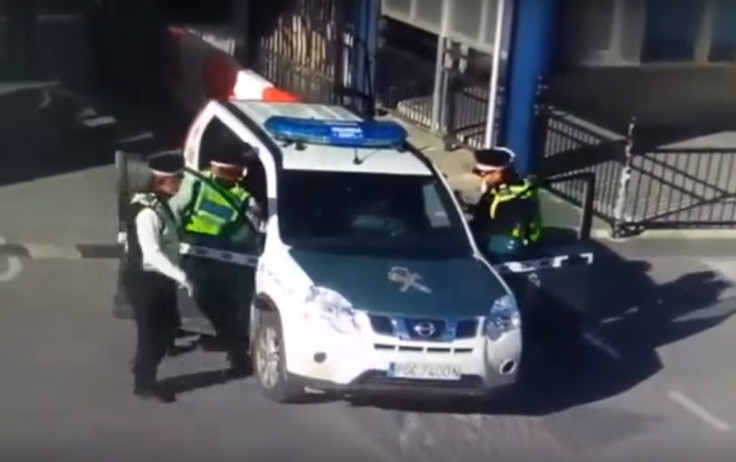 Customs authorities at a busy checkpoint in Gibraltar stopped a man trying to enter British territory inside a stolen car owned by the Spanish Civil Guard. The clearly marked squad car was halted just seconds after it passed through barriers at a checkpoint on the UK side of the border.
Officials quickly realised the driver was an impostor driving the vehicle after he refused to identify himself and attempted to power through. According to the Gibraltar Broadcasting Corporation (GBC) the Polish national had spent the previous few days wandering around the town of La Línea de la Concepción, on the Spanish side of the border, behaving suspiciously.
The broadcasters say that the interloper was referred for psychiatric evaluation after the incident. And now local authorities have also launched an investigation into how CCTV footage of the incident found its way onto YouTube, with the video now viewed over 70,000 times.
Concerns have also been expressed about the ease at which the car could have been driven into UK territory. With no bollards or other preventative measures at the checkpoint the man was effectively only stopped by two small speed humps and a waving customs officer.
The Civil Guard, or Guardia Civil, is a military force charged with police duties that operates in Spain. Revered throughout Spain the 80,000-strong force is said to be "embarrassed" by the incident.
Gibraltar rejects around 5,000 border entries per month during peak season. And the UK has not enjoyed the smoothest relationship with their Spanish counterparts.
Tensions escalated over the disputed territory following the construction of an artificial reef around Gibraltar in 2013. The Spanish government claim the reef was affecting the country's fishermen. In retaliation, Spain imposed strict border controls between the territory and the mainland, leading to huge queues for visitors to Gibraltar.
In 2014 the Spanish ambassador was summoned by the Foreign Office after numerous incursions by Spanish vessels into Gibraltarian waters. And in 2015 The Foreign Office submitted a formal protest at the "very highest level" to the Spanish government after fishermen aboard a Gibraltarian boat claimed they were shot at by a Spanish customs vessel inside Gibraltar's territorial waters.