In early July, we learned Tony Stark was to be replaced by a 15-year-old African American girl – Riri Williams – in the Marvel Comics, and now the publisher has revealed her official superhero name when she makes her debut in November: Ironheart.
Recently released illustrated covers for Invincible Iron Man #1 by artist Stefano Caselli officially introduced the name of her superhero alter-ego, in anticipation of her adopting the persona.
"Iron Woman seemed old fashioned to some," series writer Brian Michael Bendis explained to Wired when discussing the thought process behind the name's conception. "Iron Maiden looked like a legal nightmare. And Ironheart, coined by Joe Quesada, after I told him my planned story for Riri, speaks not only to the soul of the character but to the Iron Man franchise as a whole.
"Tony first put on the armour to save his heart. Riri puts it on for different reasons altogether but it's still heart-related. When people see her story, you'll be amazed at how simple and brilliant Joe's suggestion was."

Followers of the comics have been introduced to Riri already, as part of the Invincible Iron Man comic book series. In the source material, she's a scientific genius who enrols at the prestigious Massachusetts Institute of Technology (MIT) as a teenager. In the latest issue which elaborates on this story, Tony is made aware of Riri when he learns an MIT student has reverse-engineered one of his old armoured suits by herself in her dorm room.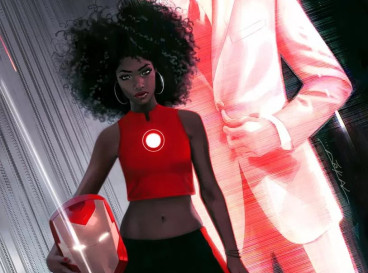 That a new character is set to become a 'version' of Iron Man has led to concerns among some diehard comic book fans who believe that Stark is probably going to have to die for that to occur. But Bendis previously suggested to Time that that was not the case. "We're not telling you the end, at all," he stated.
For more entertainment news follow A-List on Twitter @Alistinsider